Nearly every forum of significance regarding sustainability this past year, be it COP27 (Climate), COP15 (Biodiversity), Davos, and others, focused on the critical necessity of partnerships between the private sector, catalyst organizations, local governments, and communities to address the complex challenges we are facing.
Another outcome of deliberations was a notable understanding of and emphasis on the need for women's economic participation at all levels of society and across sectors to not only help solve pressing global problems (our collective benefit), but to most importantly benefit individual women, their children, households, and communities.
There is good reason for this prioritization.
The latest available Sustainable Development Goal (SDG) 5 data published as The Gender Snapshot 2022 paints an alarming picture of what appears to be a regression in the momentum to achieve the goal of gender equality and the empowerment of all women and girls.
As we know, the COVID-19 pandemic was a disruptive event that led to the exodus of women from the workforce, contributing even more to the already disproportionate lack of women's participation. But this two-year period also exacerbated intersecting crises including the climate emergency and rising economic and political insecurity, and as a result, progress on gender equality has not only failed to move forward but has begun to reverse. Around the world, a growing backlash against women's rights is threatening even well-established freedoms and protections.
Advancing Women's Economic Empowerment (WEE): 6 Key Areas for Investment
Advancing women's economic participation helps us address many interconnected sustainable development goals, including reducing poverty, combatting hunger, improving health and well-being, and making progress toward decent work and inclusive economic growth.
Below, we highlight 6 high-impact focus areas for investing in women's economic empowerment.
1. Ensuring Women's Safety
As we described in our recent Insights, a critical 2020 report by the International Union for the Conservation of Nature (IUCN) detailed research on the ways in which the global crisis of environmental degradation, the climate breakdown, and increased competition over increasingly scarce resources, are increasing violence against women and girls around the world, especially in vulnerable and poorer communities.

The IUCN report release was framed with a recognition that gender-based exploitation is in turn hampering our ability to tackle these intertwined crises, making complex problems even more challenging, affecting the security and well-being of nations, communities, and individuals, and jeopardizing meeting sustainable development goals (SDGs). The barriers to addressing environmental degradation and climate mitigation and resiliency are greater, in fact, if solutions do not consider gender inequality and the effects on women and girls at the onset.

Many of the sustainability leaders we meet with as part of our quarterly Roundtable series on Sustainable Impact have noted that in the coming years, ensuring women's safety and reducing Gender-Based Violence (GBV), particularly given the extent to which women are engaged in farming and agricultural production in their supply chains, will be a priority. Safety is a foundational requisite for economic participation and empowerment.
Investment in solutions that address GBV in global production, as well as support of policies, training, and other solutions to prevent and address sexual harassment in the workplace. Strategies will likely entail securing a high level of commitment and buy-in, and investment is anticipated in developing gender policies and/or strategies that aim to tackle the root causes of inequality in the supply chain, supply chain mapping with a gender lens to identify and understand differential needs of women and men and the extent to which their rights can be protected, and ongoing engagement with suppliers and key stakeholders to support women and ensure they have representation and influence.
Partnerships with organizations like USAID and other NGOs and catalyst organizations experienced in women workers' rights issues and programs targeting GBV can help deliver initiatives and programs at both the workplace and community levels. Our work through the Catalyst project, in partnership with USAID's Office of Gender Equality and Women's Empowerment, is one example of this kind of investment. As part of this collaboration, we helped co-design and implement the Resilient, Inclusive, & Sustainable Environments (RISE) Challenge, which included investment in global problem-solvers who are leveraging innovative approaches to counter GBV.
These types of coalitions have proven to be effective as a conduit to advocate with local and national government agencies where possible, for improved legal protections for women workers to help guarantee their rights and safety across sectors.
2. Ensuring Women's Place in the Digital Economy
Perhaps one of the largest gaps between men and women is in the digital economy. The World Bank estimates that men are 21 percent more likely to be online, and in some low-income countries that number jumps to 52 percent.
Access to the Internet and digital literacy will be increasingly significant determinants for economic prospects and success. For women to compete for jobs—and for women-owned businesses to grow and thrive—we must find ways to close the gender digital divide.
Companies and global development players can partner and co-invest to help women access the skills and tools they need to participate in the digital economy. Key support might include IT infrastructure investments to expand Internet connectivity; advancing women's training and education in critical digital skills; and helping women access mobile phones and other devices to unlock their participation in the digital economy.
One example is the current USAID/Microsoft Airband Initiative launched in 2020. This is a collaboration between Microsoft Corporation's Airband Initiative and the U.S. Agency for International Development (USAID). This public-private partnership seeks to bring Internet access to more women around the world, expanding women's economic opportunities and enabling digital development services. The partnership will utilize the technical expertise and scale of Microsoft's staff and operations as well as USAID 's expertise and successes on combating gender inequality in the digital development space.

Complementary to this initiative, Resonance will be managing a new global incentive fund developed and launched by Microsoft Airband for ISPs providing digital access to community institutions such as health clinics, schools, and local government facilities, bringing high-speed internet and connectivity to some of the most rural areas of the world. Leading up to this new initiative, Resonance has provided Microsoft with mapping and analysis of new markets to identify strategic entry points that would strengthen a country's Information and Communications Technology (ICT) enterprise ecosystem.


3. Investing in Women Entrepreneurs and Women-Owned Small- and Medium-Sized Enterprises (SMEs)
In the past year, SMEs have been recovering from the impacts of COVID-19 and the changes it brought, with many still experiencing lingering effects. The pandemic hit women-owned businesses especially hard. According to reports, women entrepreneurs and women-owned SMEs were more likely to suffer reduced operations and revenue or to close their businesses—temporarily or permanently—during the pandemic. Many have struggled to recover from pre-pandemic progress.
To compete even under normal conditions, women entrepreneurs, globally, need access to capital, financial and digital literacy skills, BDS training and support, and partnerships that help them navigate hurdles and grow. Companies and global development actors can support women-owned SMEs by advancing digital skills, acceleration services, and business training for women entrepreneurs; and by strengthening financial services and investment for women-owned SMEs. Companies can also diversify their suppliers to include more women-owned businesses in their value chains.
4. Advancing Women's Access to Safe Water, Sanitation, and Hygiene (WASH)
Women's economic participation—and schooling for young girls—gets held back when women lack access to safe water, sanitation, and hygiene (WASH). It's estimated that in about 80 percent of homes without water, the responsibility for fetching it falls on women and girls.
Time spent collecting water is time not spent in school or at work, or pursuing other economic opportunities.
However, when companies and the global development community target WASH investments, they simultaneously help close the employment—and education—gap, while also improving community health outcomes.
An example we love? The woman-owned social enterprise Kasole Secrets supplies affordable, high-quality menstrual pads to women and girls in Tanzania. We worked with Kasole Secrets to help grow their business beyond urban Tanzania and into rural and peri-urban areas, providing menstrual hygiene solutions to keep girls and women in school and at work.
5. Empowering Women Farmers in Supply Chains
Women make up a significant percentage of the agricultural workforce—especially in emerging markets. And yet women receive unequal access to training, technology, finance, and land. Closing this equity gap could boost the productivity of women-owned farms, with benefits for food security, inclusive economic growth, and agricultural supply chains.
Companies and the global development community can take steps to correct this imbalance, helping women farmers secure the support and resources they need to succeed.
For instance, PepsiCo and USAID have forged a Global Development Alliance (GDA), a five-year strategic partnership aimed at "Investing in Women to Strengthen Supply Chains." Launched in 2020, it has as a core objective ensuring women – as farmers or workers – benefit from being directly or indirectly involved within PepsiCo's supply chains, while also being empowered within their households and communities.
In its first season of implementation, the GDA has partnered with PepsiCo suppliers to pilot on-farm interventions and management practices that improve the enabling environment for women on-farm and expand opportunities for women. These partnerships, called "Gender Smart Farms" position women as first adopters of new regenerative agriculture technologies while facilitating a range of extension, inclusive management practices, and infrastructure investments that combine to transform the impact of women on a particular farm. Gender Smart Farms will generate performance data to better understand the economic impact of empowering women on farm, while also serving as learning hubs to scale the most successful interventions throughout PepsiCo's supply chain.
Ultimately, it is hoped that through Gender Smart Farms and other GDA activities, PepsiCo and USAID will provide evidence-based models, new on-farm approaches, and data and insights to make a practical and compelling business case for scaling investments in Women's Economic Empowerment (WEE) within PepsiCo and other global companies.
6. Supporting Women's Access to Secure Land Tenure

In many countries, women face serious and disproportionate barriers to secure land tenure and formal recognition of their land rights. This jeopardizes women's earning potential, their ability to make decisions about their land, and their agricultural productivity and food security. Sometimes these barriers are accompanied by greater incidences of Gender-Based Violence (GBV) due to existing norms and community power structures.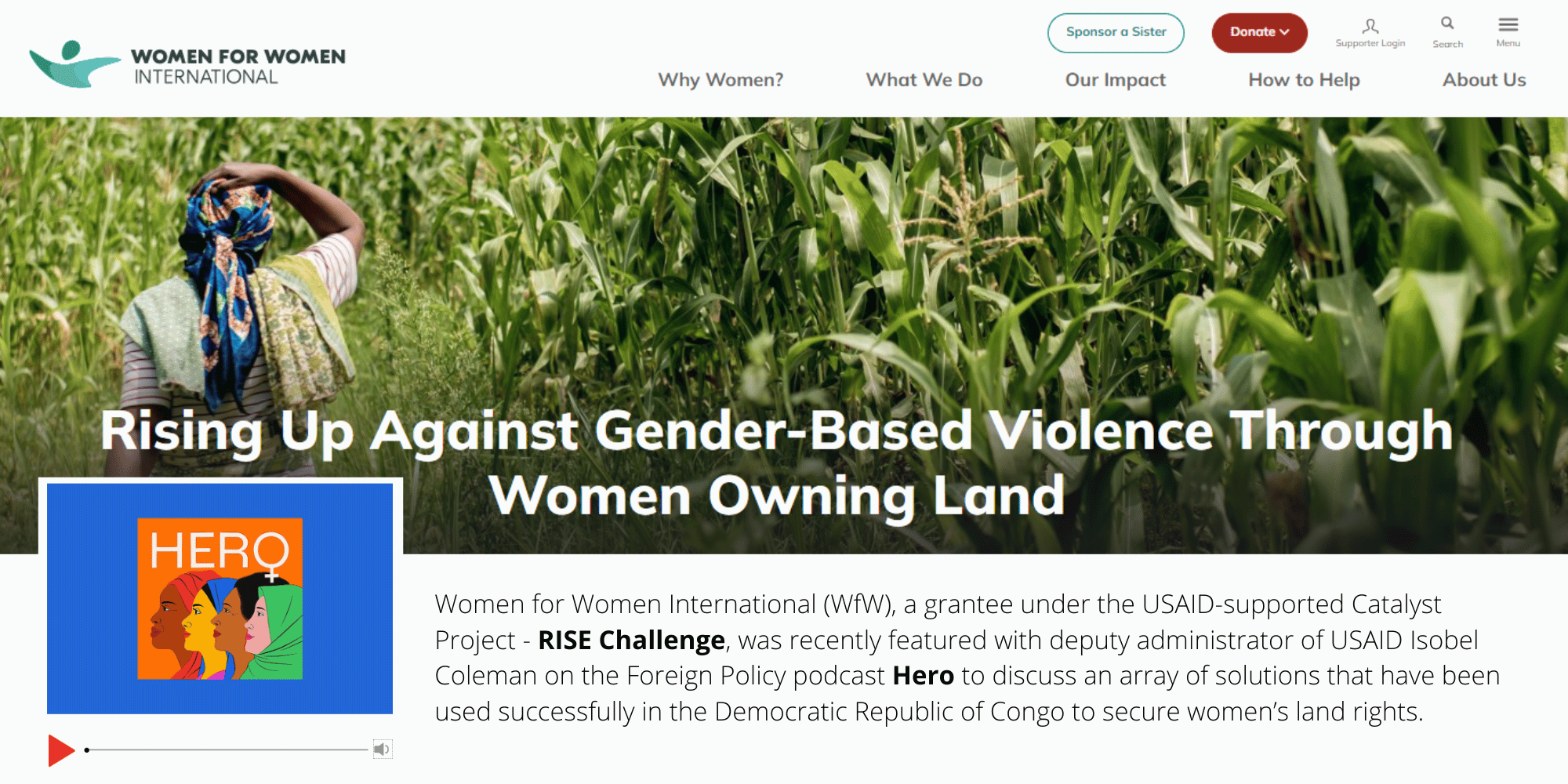 Rachel Boketa, Country Director for Women for Women International (WfW), a grantee under the Catalyst Project's RISE Challenge, was recently featured with deputy administrator of USAID Isobel Coleman on the Foreign Policy podcast Hero to discuss an array of solutions that have been used successfully in the Democratic Republic of Congo to secure women's land rights. This includes an approach centered on promoting positive masculinities. As part of this innovative model, WfWI and IFDP trained male community leaders, community land reflection groups, and women change agents on land rights and how to identify and address GBV. The project worked with these key stakeholders to integrate GBV prevention and response into IFDP's existing Customary Decentralized Land Management Resource Model, which was implemented to safely strengthen land tenure security for men and women in the community.

The global development community can have an impact on women's economic empowerment by continuing to explore flexible technology solutions—tapping context-smart and inclusive design—for advancing women's land rights and secure land tenure.
Investing with Impact in Women's Economic Empowerment
Women's economic empowerment is vital to any vision of inclusive economic growth. It also has profound implications for gender equality, food security, and health and well-being.
The pandemic has deepened the gender divide on many key fronts. Yet, by directing investment and effort toward the five focus areas listed above, companies and global development actors can help women secure the tools, support, and enabling conditions they need to compete and succeed.
By focusing on women's economic participation, we can unlock growth and sustainable impact that can be widely shared.
Editor's Note: This post has been updated for accuracy and current best practices.