In examining structural weaknesses in the world's Least Developed Countries (LDCs), the International Labour Organization (ILO) detailed in its April 2022 report that countries lagging or absent digital infrastructure face numerous challenges and barriers to structural transformation, a just transition to greener economies, and creation of full and productive employment.
Even more vulnerable to these challenges in many regions are girls and women, whose participation in society and the local economy is becoming a greater imperative, but historic and even institutionalized socio-political and cultural norms and systems render access to education, training, tools, and opportunities restrictive if not prohibitive. Nearly 2.9 billion people around the world, especially women and girls, lack a telephone, computer, or Internet access.
Digitalization is recognized as requisite for speeding up development, enabling economic growth, creating networks, community, and innovation and business ecosystems, and enabling better use of resources. In addition to LDCs having little to no access to digital technologies, some more developed regions have seen piecemeal advances, but are struggling to invest in more widespread infrastructure and technologies because they can't afford to finance it.
Digital Transformation Will Take Leveraged Investment and a 'Virtuous Circle'
Given its timing, the ILO report emphasized the ways in which the COVID pandemic illuminated the crisis gap in digital access, and as part of the recovery called for a strengthening of institutions of work, building capacities to enable fundamental rights, such as freedom of association and collective bargaining, increased market access, and active engagement of social partners.
"This policy focus would create a virtuous circle that improves trust in government, facilitates a progressive shift to high value-added and environmentally sustainable activities, help reduce poverty and inequality and contribute to social justice," according to the report.
USAID's 'Digital Strategy' Seeks to Close Persistent and Multiple Digital Divides
In 2020, then USAID Administrator and Ambassador Mark Andrew Green released the agency's first "Digital Strategy" (2020-2024), which charts an Agency-wide vision for development and humanitarian assistance in the world's rapidly evolving digital landscape.
The overarching goal of the Digital Strategy is to achieve and sustain open, secure, and inclusive digital ecosystems that contribute to broad-based, measurable development and humanitarian-assistance outcomes, and relies on two core, mutually reinforcing objectives to achieve those aims:
Improve measurable development and humanitarian-assistance outcomes through the responsible use of digital technology in USAID's programming; and
Strengthen openness, inclusiveness, and security of country digital ecosystems.
To achieve the overall goal of the Strategy, these objectives will be executed through four tracks, pictured below (Source: USAID Digital Strategy Factsheet):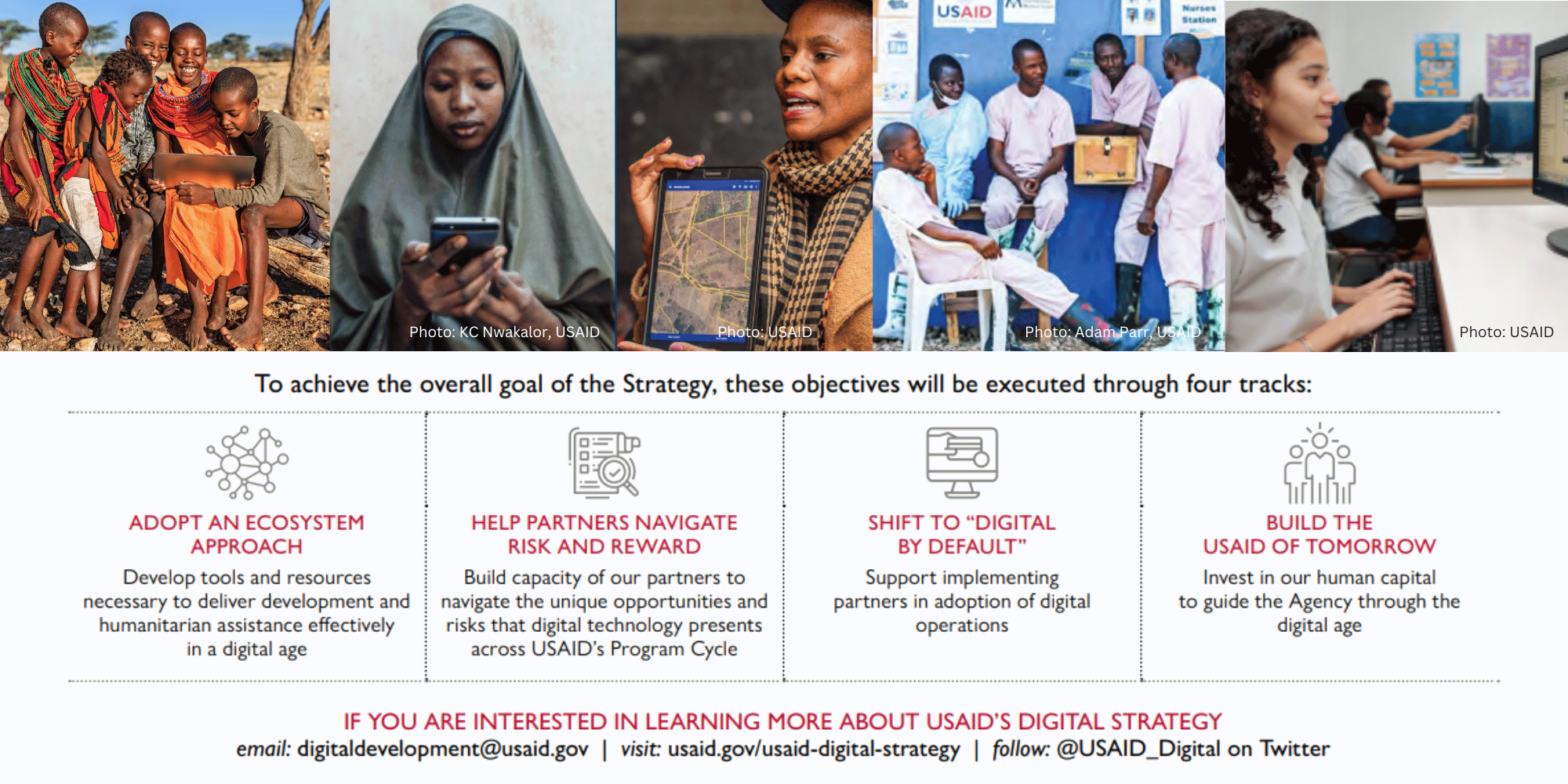 The report notes that in addition to initiatives that have a strong business case, and thus may benefit from private sector investment, there should be a collective imperative for more resource-endowed nations to look at public funding for digital investment through a just lens. This means supporting initiatives for which the private investment risk might be too burdensome.
"Marginalized populations might require public investment to aggregate demand, lower the cost of market entry, and extend connectivity to previously unreached areas—a role USAID is well-positioned to play through the use of our funds, flexible authorities, partnerships with technology companies, and technical expertise to mitigate risk and to "crowd in" public and private resources" (p. 17).
Global Incentive Fund Supported by Microsoft Airband; Managed by Resonance Under USAID 'Digital Invest'
On January 9, 2023, USAID announced four public-private partnership initiatives under the agency's Digital Invest Program. This blended finance program supports fund managers, project developers, and other private sector partners seeking to accelerate sustainable market growth for internet service providers (ISPs) and financial technology companies (fintechs) that reduce the digital divide by serving traditionally excluded communities in developing markets.
Resonance is engaged as an implementing firm in one of these partnerships intended to expand and diversify the Digital Invest portfolio with new, innovative approaches to support digital infrastructure and service providers in developing markets.
Our team will manage a new global incentive fund developed and launched by Microsoft Airband for ISPs providing digital access to community institutions such as health clinics, schools, and local government facilities. Our company brings its capabilities in Designed Innovation, including developing and implementing Innovative Finance approaches, often through cross-sector partnerships, to this role.
The involvement of Resonance represents an ongoing collaborative relationship with Microsoft in its efforts to bring high-speed internet and connectivity to some of the most rural areas of the world. Leading up to this new initiative, Resonance has provided Microsoft with mapping and analysis of new markets to identify strategic entry points that would strengthen a country's Information and Communications Technology (ICT) enterprise ecosystem.
The Digital Invest program was announced by President Biden in June 2022 as a flagship program under the G7-led Partnership for Global Infrastructure and Investment (PGII). USAID is leveraging an initial $6.45 million in U.S. government funding to support Digital Invest partners in mobilizing an estimated $455 million in investment capital. To date, Digital Invest partners have mobilized over $135 million for new or expanded facilities and have invested in 35 portfolio companies across 27 countries.
---
Read the official USAID press release on the new global incentive developed and launched by Microsoft Airband and managed by Resonance, as well as the three additional public-private partnership initiatives under the agency's Digital Invest Program.