Ten years ago, entrepreneur Hyasintha Ntuyeko began selling imported menstrual pads because high quality local options were unavailable. But when her supplier folded, she decided to design and outsource the manufacturing of pads herself. Today, she's the Founder and CEO of Kasole Secrets, a Tanzanian company that provides affordable, biodegradable, high-quality menstrual pads and a variety of support services to improve the health and wellbeing of women and girls. As Strategic Partnerships and Enterprise Development lead for USAID's Water Resources Integration Development Initiative (WARIDI) activity, Resonance helped support the growth of Ntuyeko's business beyond the city of Dar es Salaam and into other urban and peri-urban areas across the country.
Quick Facts About USAID's Water Resources Integration Development Initiative (WARIDI)
Company: Kasole Secrets Ltd
Service provided: Business development services
Client: USAID
Sector: Water, sanitation, and hygiene (WASH)
Time Period: August 2018 – Present
Country: Tanzania
Tanzanian Entrepreneur Champions Safe Menstruation for Women and Girls
An Uphill Battle for a Dynamic Innovator
In some parts of East Africa, women must contend with cultural taboos around menstruation while lacking access to clean water, medications, and sanitary disposal systems that help protect their reproductive health. Tanzanian entrepreneur Hyasintha Ntuyeko sought to address these barriers by founding Kasole Secrets, a social enterprise that lessens taboos around menstruation and provides education, medication, and eco-friendly sanitary napkins to women and girls prevent a range of menstrual health issues.
Business was good in Tanzania's largest city, Dar es Salaam, but Ntuyeko knew she could help more women by expanding into new areas. Strengthening the company's administrative systems and network of partners and distributors could help her grow the business, but staff were at capacity and cash flow was tight.
Designing Management Systems for Growth
Ntuyeko first partnered with WARIDI through the Water, Sanitation, and Hygiene (WASH) Road Show, a series of festive events that took part across five regions in Tanzania to introduce customers and retailers to innovative WASH projects. Kasole Secrets' Glory Pad products were one of the top sellers at these events. Following the Road Show, Resonance continued to work with Ntuyeko to set up business policies and management systems to help Kasole Secrets run smoothly as she grew the business.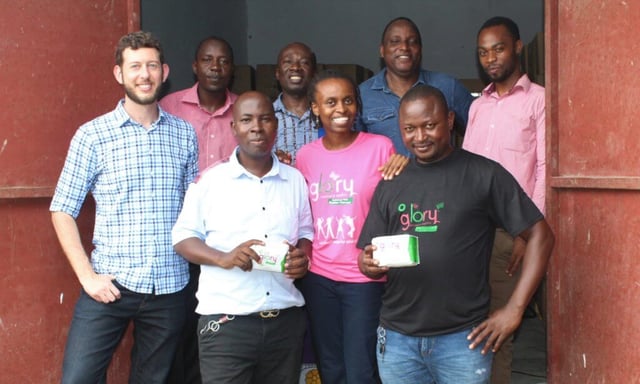 Top row, left to right: Nick McClure (Resonance, Senior Analyst), Hakam Mohamed (Resonance, Enterprise and Partnerships Specialist), Henry Jackson (Resonance, Strategic Partnerships Specialist), Msafiri Chagama (Enterprise Development Specialist), and Adam Yusuph Mwalimu (Kasole, Accountant). Bottom row, left to right: William Chacha (Kasole, Sales Representative), Hyasintha Ntuyeko (Kasole, Founder and CEO), and Simon Harrison (Kasole, Sales Representative).
The WARIDI trainings and support culminated in a series of entrepreneur showcases. At two of these events, Kasole Secrets sold over 500 boxes of Glory pads to two new markets in 10 days—a profit equal to three to four months of sales in Dar es Salaam. The experience inspired Ntuyeko to dedicate more time and resources to shoring up her business systems and provided much-needed reassurance that her vision was achievable.
"WARIDI started to show me the big picture of our business," said Ntuyeko. "In some ways, I could see it before, but I thought: let it wait while I work on the social impact side. WARIDI helped me understand how to motivate my staff to engage in the business and add more value."
Through WARIDI, Resonance helped Kasole Secrets:
Strengthen corporate governance systems
Develop a pricing strategy
Introduce its Glory Sanitary napkins product in five regions of Tanzania to 20 new local government authorities
Build capacity to develop and manage supply chains in underserved rural areas and small towns
Business Acumen Fuels Greater Impact
After receiving business development support from USAID and Resonance, Kasole Secrets went on to win a Canada Grand Challenge grant and a $50,000 investment from the Duke/UNICEF Innovation Accelerator. The programs will allow her to distribute menstrual pads to lower-income students in rural and peri-urban schools across Tanzania.
Kasole Secrets is also providing consultative services to UNICEF-TANZANIA to help IPOSA (Integrated Program for Out of School Adolescents) centers establish a social enterprise that can produce and sell reusable sanitary pads in the Songwe and Mbeya regions. UNICEF expects this collaboration to support the large majority of women and girls in these rural communities who are currently using unhygienic materials to manage menstruation.
Ntuyeko is looking to expand her business to other countries in the region and has already launched sales in South Africa. Eventually, she wants to provide guidance and support to other African social enterprises as an impact investor. Her advice for budding entrepreneurs?
"The world is no longer just profit, profit, profit, but also about impact," said Ntuyeko. "As an entrepreneur, you should make sure to think about that. And also, don't be afraid to get your hands dirty."
We couldn't agree more.
About USAID Tanzania Water Resources Integration Development Initiative (WARIDI)
The USAID Tanzania Water Resources Integration Development Initiative (WARIDI), led by Tetra Tech, was a five-year activity that improved Tanzania's access to clean water and sanitation while also creating livelihoods and promoting resilient communities in the face of a changing climate. As USAID WARIDI's Private Sector Engagement lead, Resonance designed and implemented business support services to help water and sanitation-focused enterprises expand their services within the region.