When we wrote about Sustainable Seafood trends in 2022, our insights were shaped as we were emerging from a global pandemic, which had included a slowdown in seafood production and delivery in intervals over that two-year period.
There were certainly several lessons to be gleaned in terms of supply chain disruptions sector-wide, including the fact that despite the unprecedented nature of the pandemic, seafood continued to experience higher-than-anticipated demand across all regions compared to pre-pandemic levels. Surely, COVID-19 will not be the last disruptor we will see, as evidenced by the decision of the Alaska Department of Fish and Game to cancel all snow crab, red king crab, and blue king crab seasons for 2022-2023, after trawl surveys showed a continuing crash in abundance.
Major catastrophic events like these do serve to spotlight more general apprehensions around seafood availability given explosive global demand for fish and other seafood, compounded by growing threats to local and regional fisheries and challenges to consistent, sustainable supply.
These include the pressures of overfishing and illegal harvesting, ecosystem degradation, and climate change threats, and together are pressuring companies, governments, and NGOs to prioritize focus on the sustainability and resiliency of global seafood supply chains. And often, this includes building capacity for a sustainable fishing industry that centers local fisherfolk and their communities.
The Growing Seafood Market at a Glance
Around the world, the seafood industry plays a critical role in feeding billions of people. It's also a major economic driver as part of the growing Blue Economy. According to the United Nations, fishing and aquaculture provide livelihoods to around 820 million people worldwide. According to Fortune Business Insights, the seafood market is projected to grow from USD $333.25 billion in 2022 to $605.46 billion by 2029, at a CAGR of 8.92% in the forecast period, 2022-2029.
This rapid growth is due to several factors including rising per capita consumption, increasing disposable income, and growing consumer preferences for seafood in shifting to a more healthful diet.
In many countries like the Philippines, Vietnam, Ecuador, Ghana, and Indonesia, it is small-scale fisherfolk and aquaculture farmers who dominate the seafood industry. But artisanal fishing communities and small operations are especially vulnerable to disruptions.
Further, transitioning to more sustainable fishing practices is often difficult for these small-scale fisherfolk and aquaculture farmers. Many do not see direct financial benefit, nor do they have the capital needed—or access to affordable loans—to make the financial investments necessary to transform their operations.
The seafood industry also struggles with other serious issues like human rights violations, the use of unethical and illegal work practices, gender inequality, illegal and unreported and unregulated (IUU) fishing, and collapses in marine ecosystems caused by overfishing.
Key Sustainable Seafood Trends in 2023
We see five major sustainable seafood trends emerging from the global development community, government, and the private sector to help small-scale fisherfolk and aquaculture farmers enhance seafood sustainability and resilience.
Many of these sustainable seafood trends have evolved or arisen in response to COVID-19, but they stand to be ongoing opportunities for progress in the seafood industry.
1. Greater Domestic Import/Export Market Diversity
COVID-19 highlighted the serious disruptions that result from overreliance on one import/export market. Fisherfolk and aquaculture farmers who relied on selling fresh or frozen seafood products to one primary market experienced major disruptions because of lockdowns and restaurant and hotel closures in the United States, Europe, and China.
To remain in business, small-scale fisheries and aquaculture operations had to quickly pivot to weather the disruption—often shifting focus from international export markets to local consumers. We also saw governments and companies collaborate to safeguard food security and prevent economic fallout for local fisheries and aquaculture providers.
In the Philippines, the Department of Agriculture and the private sector launched "eKadiwa," an online marketing platform to help producers and agri-preneurs sell fresh and affordable farm and seafood products to local consumers.
While COVID-19 accelerated this expansion of import/export markets, we expect this trend to continue in the seafood industry. Diversifying these markets will give small-scale fisherfolk and aquaculture providers more control over pricing and resiliency—in the event of another market shock.
And we will likely see more cross-sector partnerships to develop regional and domestic markets too. This will improve local food security while protecting the livelihoods of fishing communities.
2. Acceleration of Digital Technology for Seafood Sustainability and Market Development
When COVID-19 upended the import/export market, it was digital technology that opened new markets for many fisherfolk and aquaculture providers. Those who were nimble enough to move their products to a digital marketplace could connect directly to consumers for purchase and delivery.
In May 2020, USAID Fish Right's Fish Tiangge initiative in the Philippines developed an online platform using Facebook to link fishers with local consumers. This one initiative connected 6,000 fisherfolk with more than 300,000 households—enhancing local food security and preserving incomes for thousands of fisherfolk.
Responding to the long-term need for market access and expansion, and as part of our legacy planning for Fish Right activities as we neared the end of the Initiative, Resonance forged a local partnership with Philippines-based Sustainable Fisheries Partnership (SFP) to pilot and scale an e-commerce marketplace.
Called Juan Catch, this B2B online marketplace developed by Open Innovation Challenge (OIC) winner Agro-Digital, features buyer and seller profiles and facilitates seafood catch offers and transactions. Leveraging other Fish Right partnerships, it also supports financing to help fishers cover upfront costs to coordinate logistics and consolidation, ensuring prompt and quality product delivery. The goals of this tech transfer activity are to increase responsible seafood supply chains and to empower and protect fisherfolk livelihoods by providing them with direct access to large buyers looking for supplies.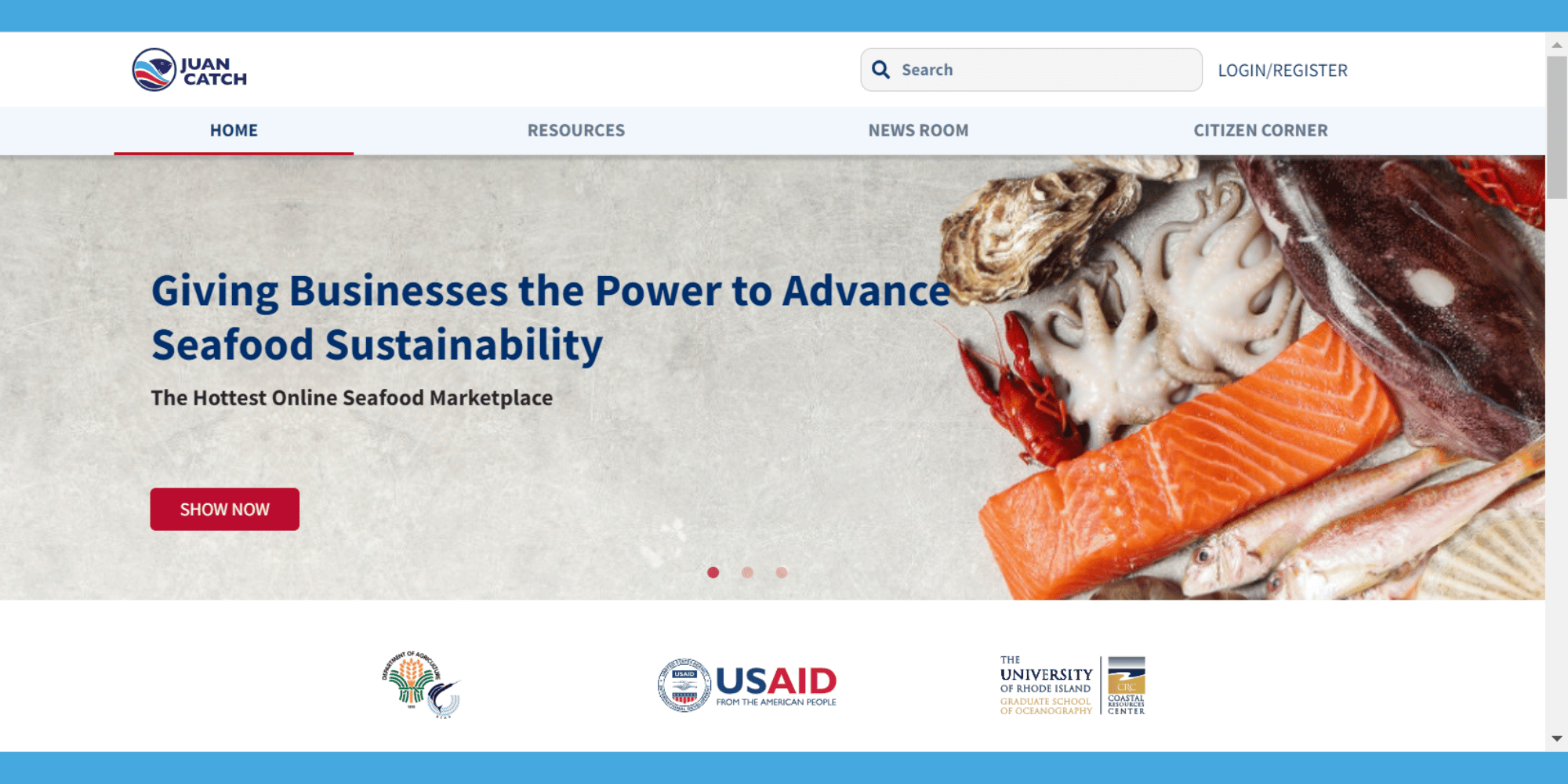 Digital technology is also helping to modernize fishing and aquaculture operations, increase profits, and expand awareness of best practices for sustainable seafood, and is one of the many growing sustainable seafood trends.
Case in point. We attended in fall 2022 the inaugural Global Shrimp Forum, established by the Aquaculture Stewardship Council, Shrimp Insights and Contango, the Global Shrimp Forum Foundation. With the second forum slated for September 5-7, 2023, this event brings industry leaders of the warm water shrimp industry together to discuss the most pressing issues their businesses face, and to develop a long-term strategy towards the creation of a resilient and sustainable seafood industry.
With a number of side events and presentations, including our own, many of the themes of the 2022 forum focused on the integration of innovation and digital technology, including the use of data platforms, tech company investment, and the growing use of drones and satellites.
This affirms our own collaboration with AquaConnect in India to provide digital solutions that help shrimp farmers identify quality products and farm-input purchases. Farmers also get notices and materials on growth and disease advisories, advice and information on affordable financing, and resources to connect to different markets in India.
Digital technology will continue to be a major source of the sector evolution and innovation in the coming years; especially when looking at sustainable seafood trends.
3. Private Sector Engagement to Unlock New Solutions for Sustainable Seafood
To create reliable and sustainable seafood supply chains, we need private sector engagement. Of course, the public sector can and should play a role. But government and the global development community can only do so much to address logistics, aggregate supply, ensure quality, and verify sustainable practices for small-scale fisheries and aquaculture providers.
A truly sustainable fishing and seafood sector demands creative, market-driven solutions that fit the local context. In 2022, Resonance was awarded a Walton Family Foundation (WFF) grant to serve as the lead secretariat for Phase II of the Indonesia Tuna Consortium, which was created to coordinate a cross-sector approach to developing science-based policies and regulations, implementing social and economic programs to improve fisher livelihoods, and integrating these policies into a holistic harvest strategy for tuna fisheries in Indonesia's archipelagic waters.

The goal of the consortium is to bring key stakeholders from across the non-profit, private, and public sectors to establish a market-driven harvest strategy that will be adopted by the Government of Indonesia (GOI) to secure healthy, sustainable tuna fisheries and fisher communities throughout Indonesia. Strategies supporting a more sustainable fishing industry in this fishery includes private sector engagement that
fits the local context
ensures effective co-management and coordination mechanisms are in place, and
strengthens adaptive fisheries management and community livelihoods.
We've also been inspired by local private sector innovators like eFishery: eFishery provides technology solutions, financing options, and input sourcing for small-scale aquaculture farmers in Indonesia, helping them build sustainable and profitable businesses. It also provides an online platform connecting farmers to buyers, to close supply chain gaps and strengthen domestic seafood supply chains.
We are seeing more local, regional, and international private sector-led solutions like Verifik8 and Abalobi and Aruna—for small-scale fisheries and aquaculture worldwide; we expect this field to continue to evolve as a sustainable seafood trend.
4. Innovative Financing to Spur Change in the Seafood Industry
New, innovative financing approaches can rapidly scale sustainability solutions in the seafood industry. Historically, small-scale fisheries and aquaculture providers have struggled to access capital to improve their practices and operations or to protect against market disruptions, shocks, and income loss. This is a critical gap.
At Resonance, we are designing and piloting blended finance mechanisms that increase farmer and fisher profitability while also improving sustainable fisheries management. These finance mechanisms all build on partnerships on the ground with suppliers, aggregators, local financiers, and buyers—leveraging local connections and social capital. We are exploring a range of finance solutions for fisheries, including:
Engaging rural banks and microfinance institutions to reduce the risk-profile of potential borrowing farmers/fishers, using grant subsidies combined with intensive technical assistance provided by local buyers.




Exploring innovative financing alternatives with input suppliers to allow for delayed payment on their inputs until harvest.




Working with buyers and other technical service providers to develop systems for gathering credit risk information from fishers/farmers as part of training or other support activities.
5. New Models to Verify and Reward Sustainable and Fair Labor Practices in the Seafood Industry
Over the last few years, we have worked with several partners, from private sector buyers to NGOs to governments, to analyze the return on investment (ROI) for seafood sustainability certifications and improvement programs. Each project analysis overlapped in one key area: the traditional certification and auditing of individual small-scale fisherfolk and aquaculture providers is not working, despite significant investments.
There is growing support, from all stakeholders, to develop alternative models to verify and reward sustainable seafood production practices. We're currently collaborating with Seafood Watch, Thai Union, and others to create the Partnership Assurance Model (PAM), an innovative approach to verifying sustainable aquaculture production at a regional level rather than certifying individual farms and operations. We are starting by working with Seafood Watch, buyers, suppliers and government to use PAM to help improve the quality and sustainability of shrimp produced in Andhra Pradesh, India, and Ca Mau, Vietnam.
Further, PAM and other models like it can help verify sustainable and fair labor practices—an area that the seafood industry has struggled with.
New assurance and improvement models such as PAM will gain greater traction as NGOs, governments, and the private sector seek more effective and cost-efficient ways to accelerate and verify sustainability progress.
Does the Future Support a Sustainable Fishing Industry?
Although COVID-19 challenged many small-scale fisherfolk and aquaculture providers, it also showed us areas of opportunity where the seafood industry can build more resilient and sustainable supply chains. With that aim, Resonance has distinguished itself as a leader in partnerships, open innovation, and technical implementation in sustainable fisheries management as part of its natural resources portfolio of projects that include private sector engagement.
We expect the sustainable seafood trends that we have outlined, all of which require the involvement of the private sector and attentiveness to local contexts, will play critical roles in helping governments, the global development community, and corporate stakeholders make progress toward a more stable, more sustainable seafood sector.
---
Editor's Note: This post has been updated for accuracy and current best practices.