In October 2022, the Alaska Board of Fisheries and North Pacific Fishery Management Council announced that the population of snow crab in the Bering Sea fell below the regulatory threshold to open the fishery for commercial fishing.
This decision noted the shocking population decline of snow crabs from 8 billion in 2018 to a mere 1 billion in 2021, which may be attributable (hypothesized) to what scientists describe as an historic 2018 warming event of sea waters supporting snow crab habitat.
The alarm that accompanies this announcement is resounding as media outlets take a deeper dive into the speculative causes and impacts this will have not only on the species, but on ecosystems and the social-economic fabric of Alaskan crabbing and fishery communities as well.
From New Scientist to Bloomberg, The Guardian, and The Independent, science journalists are covering this "story" with far more questions than they have answers.
Is it overfishing?
Is it a new disease that contributed to such rapid decline?
Is it climate change?
Officials cited overfishing as their rationale for canceling the seasons because there were more removals from the existing snow crab population than there were inputs. Mature male snow crabs had declined an estimated 40% from 2021 to 2022 surveys, with an estimated 45 million pounds left in the entire Bering Sea.
"It's a scary number, just to be clear," Mark Stichert told CNN reporters. Stichert is the groundfish and shellfish fisheries management coordinator with the Alaska's fish and game department.
But calling the Bering Sea crab population "overfished" – a technical definition that triggers conservation measures – says nothing about the cause of its collapse, according to scientists who were interviewed by numerous news outlets.
"We call it overfishing because of the size level," Michael Litzow, the Kodiak lab director for NOAA Fisheries stated. "But it wasn't overfishing that caused the collapse, that much is clear."
Warming Waters; Disappearing Sea Ice Linked To Snow Crab Shift Away From Coasts
Many scientists like Litzow believe human-caused climate change is a significant factor in the crabs' alarming disappearance, citing rising water temperatures, as well as disappearing sea ice, which significantly amplifies global warming and alters ideal habitat conditions for the crabs.
In fact, temperatures around the Arctic have warmed four times faster than the rest of the planet, scientists have reported.
Some scientists including the US Environmental Protection Agency (EPA) have suggested increased predation alongside warmer waters may have prompted the crabs to shift away from coasts. Scientists have seen migration of some species including Alaska pollock, snow crab, and Pacific halibut away from coasts since the 1980s.
Time magazine reporters and others describe a different theory put forth by local researchers and crabbers. They note a record explosion in 2017-2018 of juvenile snow crabs, or what local crabbers call "recruit," reacted to the warming sea temperatures of the Bering Sea during this same time period. While mammals use less energy when temperatures rise, crustaceans and other cold-water fish speed up their metabolism.

Out-eating their typical food source in this period of rapid growth, this larger than normal swath of juvenille crabs turned to cannibalization for survival.

As researchers rush to determine the causes with more certainty, the snow crab species survey counts that prompted the decision not to reopen commercial fishing this year for snow crab, is leaving fisherman and fishing communities more than anxious. It is accompanied by a back-to-back year decision not to allow commercial fishing for the Bristol Bay red king crab as well.
"These are truly unprecedented and troubling times for Alaska's iconic crab fisheries and for the hard-working fishermen and communities that depend on them," said Jamie Goen, executive director of Alaska Bering Sea Crabbers, a trade association.
"Second- and third generation crab-fishing families will go out of business due to the lack of meaningful protections by decision-makers to help crab stocks recover," he added.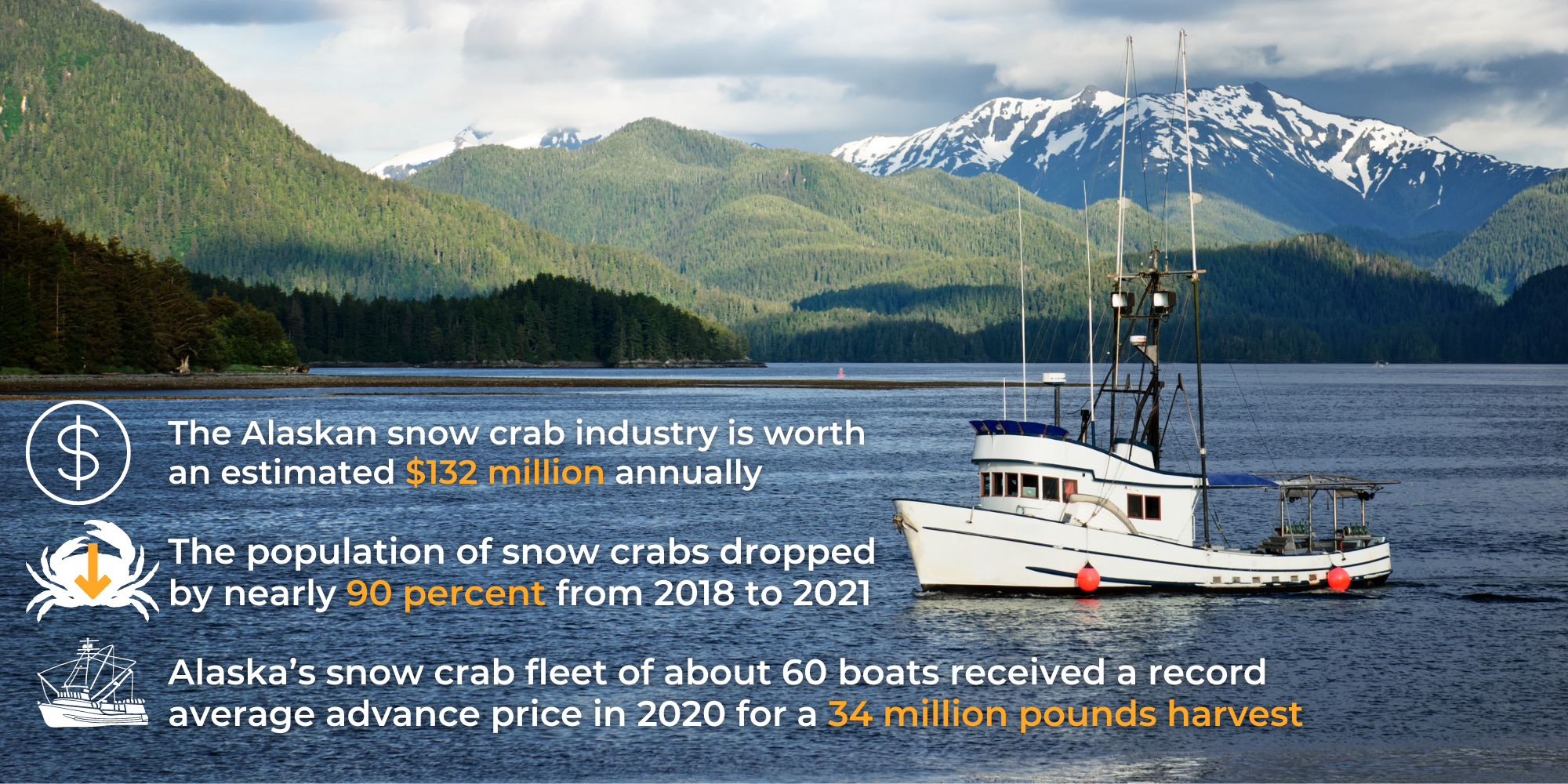 The closures due to low abundance will allow for scientists and agency staff to work with crab industry input to continue research and to focus on conservation and rebuilding given the conditions of the stock, including potential for sustainably fishing during periods of low abundance. This includes, notes the Alaska Department of Fish & Game (ADF&G) in a statement, focused work on issues related to "state and federal co-management, observer coverage, discard mortality and fishery viability."
There was a glimmer of hope, noted several scientists, that despite the fact there was significant decline in female and juvenile crabs as well, there was evidence of some young crab in current species surveys. Optimism will no doubt be valued as coalitions forge ahead to tackle this immense challenge, especially given the fact there is a tremendous degree of uncertainty regarding long-term species restoration.
Planning and Managing For Sustainable Fisheries Is A Complex Challenge

What is clear from this challenge is the near disappearance of an entire species in only two years is not just an environmental issue. It encompasses the kind of complex, intersecting sustainability issue with implications for society, livelihoods, and community survival, as well as long-term governance.
In other words, it is the kind of wicked problem that we are facing across the globe.
Crab is one of many high-consumption species critical to not only local fishing-based communities, but also as a larger sectoral componant of the growing Blue Economy. The sustainability of the world's fisheries is a priority among not only the commercial fishing industry at-large, but also environmental groups and NGOs, national and local governments, global development agencies like USAID, and cross-sector partnerships focused on collaborative activities and initiatives like those in which Resonance is deeply involved.
Resonance Involvement And Capabilities In Sustainable Fisheries Management
As the devastating news in Alaska about the declines in snow crab is amplified by media outlets and in today's Insights, Resonance via a robust USAID-supported partnership is winding down a multi-year initiative focused on sustainable fisheries activities in the Philippines.
Outcomes and achievements under the Fish Right consortium, which includes the University of Rhode Island in collaboration with Path Foundation Philippines Inc., Silliman University, Marine Environment and Resources Foundation, NGOs for Fisheries Reform, Resonance Global, and the Sustainable Fisheries Partnership, will be the basis of numerous published briefs, case studies, and Resonance Insights -Impact Stories in the coming months.
We anticipate this will also include updates on a newly facilitated partnership that has evolved from these activities and will carry on independently to promote address sustainable fisheries management of the Blue Swimming crab, a species of tremendous commercial value in the Visayan Sea region of the Philippines that given high market demand, is threatened by overfishing, Illegal, Unreported, and Unregulated (IUU) fishing practices, and other actions and inactions that challenge sustainability.
As researchers, fishers and decision-makers in Alaska contemplate how to address snow crab restocking and management in the Bering Sea, it is not unreasonable to expect that the steady and even increasing global consumer demand for crab and crab products may result in tremendous pressure for countries like the Philippines to increase export of Blue Swimming crab as alternative species for consumption.
This could of course complicate already existing challenges as well as current and future gains made in sustainable fishery efforts in this region and other regions as well.
In the last decade, Resonance has become a leading implementer firm in sustainable fisheries and capacity-building for long-term impact (read about our work in Ghana as well). In addition to its involvement in Fish Right, our Resonance team is now leading the newly-launched USAID Collaborative Fisheries Management or "Ber-IKAN" Activity, a 5-year initiative to advance Indonesia's self-reliance to protect marine biodiversity by improving sustainable and equitable management of fisheries.
In this important role, it becomes even more critical that Resonance engage in not only ongoing Monitoring, Evaluation, and learning (MEL) as part of our own partnership initiatives and activities, but to also learn from other efforts in sustainable fisheries as well.
To that end, we will continue to monitor and report on efforts and best practices undertaken in Alaska to address the alarming challenge of current snow crab decline, hopeful there solutions will emerge that can contribute to species restoration, even under the threat and uncertainty of a changing climate.