The Philippines' abundant coral reefs, mangroves, seagrass beds, and other marine habitats support a fishing industry worth more than $7 billion annually. But overfishing and illegal, unregulated, and unreported (IUU) fishing practices have sent fish populations plummeting.
As a result, coastal fishers increasingly resort to short-term fixes and travel further for ever-smaller hauls. This downward spiral threatens the sustainability of a critical food source and the livelihoods of more than two million people.
Small-scale fishers, many of whom live below the nation's poverty line, are particularly challenged to break free from this zero-sum game. They sell their catches through intermediary traders who control logistics, finance terms, and access to the market. Because these fishers are heavily dependent on traders for income, they don't have the bargaining power to advocate for fair prices.
Consequently, they also can't accumulate the financial capital they need to safeguard their livelihoods and household needs. Asking them to accept measures to improve fishery health, like seasonal closures, can then be challenging if short-term sacrifices can't be afforded for long-term gains.
Through USAID's Fish Right Program, Resonance and its project partners are collaborating with coastal communities, domestic buyers, NGOs, and local universities to build an online marketplace that leverages the Philippines' growing demand for sustainable seafood and e-commerce.
Let's take a look at Juan Catch, a new online marketplace for sustainable seafood, and how the solution is encouraging responsible marine fishing practices in the Philippines.
Designing a New E-Commerce Marketplace for Sustainable Seafood in the Philippines
Now, we're trying a new approach: Connecting fishers directly with large seafood buyers. This can help ensure a fair price and encourage fishers to adopt and comply with sustainable fishing practices.
COVID-19 exacerbated economic inequality in fisher communities, but lockdowns also provided an unexpected opportunity to address some long-standing challenges in existing seafood supply chains. Restricted fishing activity, food logistics challenges, and limited access to public markets prompted suppliers and buyers to search for alternative providers. Both small-scale fishers and large seafood buyers—those serving institutional, bulk, and wholesale markets—realized that they could minimize handoffs and improve transparency and efficiency by selling and purchasing from each other directly.
Now, those buyers and small-scale fishers will help inform a new web-based platform called Juan Catch that enables online seafood trading and encourages a more economically viable approach to responsible marine fishing practices. Developed to support local fishing associations, the Juan Catch marketplace will feature buyer and seller profiles and facilitate seafood catch offers and transactions. It will also support financing to help fishers cover the upfront costs of fishing trips and consolidate their catch, and help coordinate logistics to ensure product quality and prompt delivery.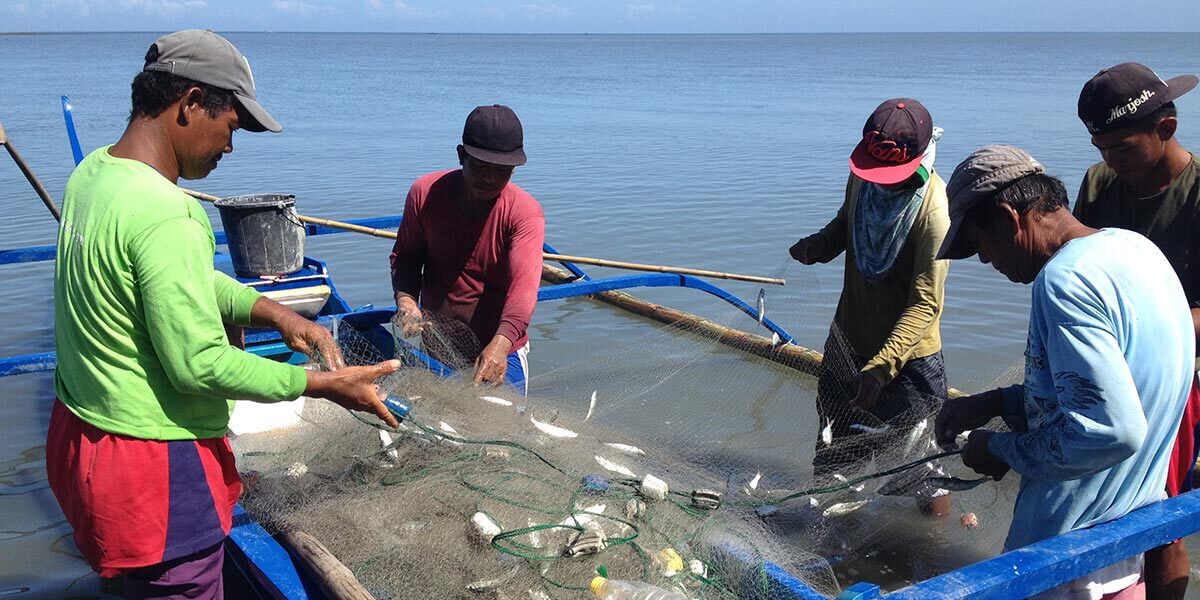 Why an E-Commerce Platform will Accelerate the Adoption of Sustainable Fishing Practices
The platform aligns with the Philippine stakeholders' ongoing development of a responsible sourcing standard, which will guide a common understanding of sustainable catch and help mainstream sustainable seafood among key stakeholders and consumers. At a minimum, fishers' organizations must be registered with authorities and provide information on which (legal) fishing tools were used to catch fish, in which fishing grounds, to sell their catch on the Juan Catch platform. Seafood products that are restricted, such as species on the IUCN red list, cannot be sold on Juan Catch.
Eventually, buyers will be able to purchase seafood on the Juan Catch marketplace based on whether it meets their specific responsible sourcing criteria or guidelines. As demand for sustainable products grows, more small-scale fishers will be motivated to adopt responsible fishing practices. The goal of this coordinated effort is to reverse overfishing trends toward a lasting, viable seafood system.
"Fish Right aims to support its partners to effectively manage fisheries through an ecosystems approach. As the program team worked through the crafting of different partnership strategies, the influence of the various commodities, processes, and players in the supply chain became apparent," said Nygiel Armada, Chief of Party, USAID Fish Right Program.
Resonance and Sustainable Fisheries Partnership (SFP), along with Path Foundation Philippines Inc., NGOs for Fisheries Reform, and Silliman University, are actively recruiting large buyers and fishers' associations for the pilot phase of the Juan Catch marketplace. The team will test and use feedback from the participants to iterate the platform's usability and functionality before formally launching the marketplace.
The Juan Catch marketplace supports USAID Fish Right's goal to improve biodiversity and economic prosperity in the Philippines' coastal communities. The initiative will provide stakeholders with critical information about the needs and habits of fishers and buyers, while ensuring that small-scale fishers receive access to the market and a fair price for their catch. If successful, the result will be more prosperous coastal communities that are rewarded for meeting sustainable seafood standards, while giving marine life a chance to recover and thrive.
Leveraging the Juan Catch Marketplace to Advance Sustainability Goals
The online seafood marketplace is one of several workstreams under the USAID Fish Right project, which takes an ecosystem approach to improving social and ecological well-being in the Philippines' coastal fishing communities. Resonance's role is to bring in the perspective and expertise of the private sector to create market demand for sustainable seafood; support livelihoods and economic prosperity in coastal fishing communities; and reduce the threat of overfishing and illegal, unregulated, and unreported fishing.
Resonance is a leader in harnessing collaboration and cutting-edge technologies for sustainable seafood and ocean conservation. Get in touch with a Sustainable Impact Strategist to learn how we can help your organization forge collaborative, market-led solutions to address pressing environment and sustainable business challenges.
All photos by Ouie Sanchez for USAID Fish Right.
Editor's Note: This post has been updated for accuracy and current best practices.