As communities across the globe continue to reckon with growing mounds of waste, increasing greenhouse emissions and subsequent rising temperatures, pollution filled waterways, and overflowing landfills, the imperative to re-imagine our production, consumption, and waste management practices has never been more clear.
The take-make-waste model deeply engrained in our societal systems has created profound impacts for both natural and built environments, and the communities that surround them.
Take for example that a staggering 8 million tons of plastic pollution enters the ocean every year; it's now estimated that there will be more plastic in the ocean than fish (by weight) by 2050 if we don't change the course. Or consider that urban city centers consume more than 75 per cent of natural resources, are responsible for over 50 per cent of solid waste and emit up to 60 per cent of greenhouse gases, making our very own homes major drivers of climate change and biodiversity loss.
In contrast to the 'take-make-waste' model we've become so accustomed to, a circular economy aims to "gradually decouple growth from the consumption of finite resources" by advocating for the circulation of products and materials, the elimination of waste, and the regeneration of our planet. It is a viable and impactful framework that is being embraced by businesses, governments, and societies across the world to re-envision and re-design the ways in which we live.
For this reason, 1,400 people from various industries convened at the Hyatt in downtown Seattle over the course of 3 days in June to explore numerous solutions aimed at enabling a more circular economy.
Critical Circularity Themes on the Agenda
Hosted by GreenBiz Group, a media and events company on a mission to accelerate the just transition to a clean economy, the annual Circularity Conference offers "thought-provoking keynotes, actionable breakouts, a solutions-oriented expo and unparalleled networking opportunities" with the goal of empowering "visionaries and practitioners to move beyond incremental action, catalyze systems change and accelerate the circular economy."
The focus areas of the conference spanned packaging, electronics, textiles and food systems, and attendees represented various stakeholder groups from politicians to material producers, to brands, to NGOs. The topics covered were vast, the learnings rich, and a few key themes emerged over the course of 3 days:
1. The Push for Policy
The need for local, national, and international policy around plastic is clear and the momentum is growing. The UN Plastic Treaty is well underway with various stakeholders from across the globe shaping the process, and extended producer responsibility (EPR) bills are being adopted across the country here in the US. These policies have the potential to really shape how companies do business moving forward and the rate at which they must innovate.

2. Rethinking Recycling
Recyclability is not and will never be the silver bullet. We cannot recycle our way out of the mess we have created. While many stakeholders are focused on improving recycling infrastructure and increasing the recovery of materials, many others are pushing for innovation that extends beyond recycling such as reuse systems, compostability, and upcycling. The conference showcased numerous impressive innovations such as the work of Genecis - a company creating PHA (a sustainable alternative to petroleum-based plastics) from organic waste.
3. Public + Private Partnerships
Bridging the gap between private and public entities is a major sticking point for organizations when it comes to tackling complex, wicked problems such as circularity. This is particularly true for private organizations that do not know how to navigate bureaucratic processes around funding or engage in policy advocacy efforts. A concerted effort to connect these groups is critical to bring different interests, perspectives, and expertise to the table when crafting systems-levels solutions that require buy-in from various groups. Enabling a circular economy requires a systems-level approach - as Washington Governor Inslee said, "This isn't just a circular economy. This is circular everything."
4. Measuring Circularity
There is a strong need for a uniform approach to measuring circularity, which requires the establishment of standardized metrics and Key Performance Indicators (KPIs) that are industry specific). A more unified approach can help to accurately measure progress, set precise targets and goals, and minimize greenwashing. The incredible work between PACE, Accenture, and the Circular Economy Indicators Coalition has brought to life a robust framework for corporate circular target-setting to establish clear, quantifiable circularity targets that "facilitate accountability, and mitigate poorly supported claims of sustainability."
5. Financing the Future
There is also a clear need for greater access to capital in order to scale innovative approaches to circularity. For private investors, this will require a reframing of the typical "return" on investment and greater comfort in taking risks. Financing circular solutions will also require cross-collaborative partnerships and the development of innovative financing mechanisms such as the funding schemes outlined by RePurpose Global.
6. Intersectionality
Perhaps what was most inspiring was listening to the 13 students of color from across the globe who were named as GreenBiz's Emerging Leaders. They discussed the ways in which their lived experiences and cultures inform and inspire the incredible work they are doing around circularity and sustainability, reminding those in the room that we must take an intersectional approach to solving complex problems like circularity.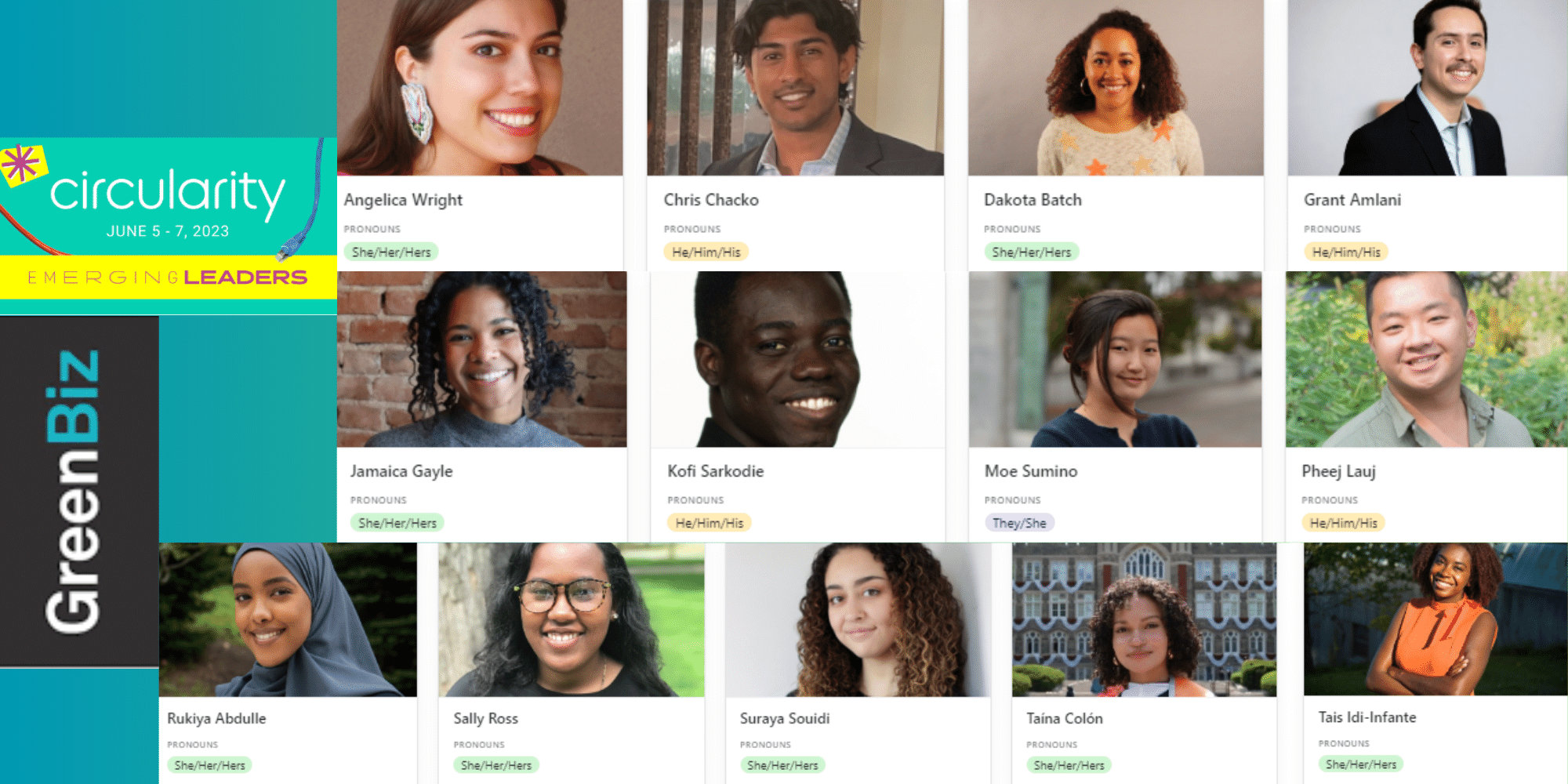 The keynote speakers from The Descendants Project - a nonprofit dedicated to "intergenerational healing and flourishing of the Black descendant community in the Louisiana river parishes" – also delivered a powerful talk around addressing and dismantling environmental racism. One of their initiatives is focused on promoting justice in "Cancer Alley" where there are high rates of illness due to the concentrated presence of plastic production facilities in the area. Both talks were profound reminders that we must ask ourselves who our work truly benefits, and how we can better serve those most impacted by the consequences of the systems we currently have in place.
Strengthening Capabilities and Partnerships in Circularity
Our portfolio of work in circularity continues to grow given the urgency across sectors to embed circular principles and strategies as part of more innovative solutions to address complex problems. Immersive learning environments such as the Circularity Conference bolster and deepen our ability to support our clients in these initiatives, with the ultimate goal of delivering greater sustainable impact.
To build on this growing momentum, our fall installment of the Resonance Sustainable Impact Exchange will bring together corporate sustainability leaders in what we anticipate will be engaging roundtable discussions about opportunities, challenges, and best practices around circularity, with a requested focus on plastics and packaging.
If your company would like to participate, there is always room at the table. Feel free to contact us with your interest.