As someone who taught environmental and science journalism in my academic career, I often referenced the reality that despite the growth in environmental challenges, especially wicked problems like climate change and significant threats to biodiversity, there were fewer and fewer reporters on staff covering the environmental "beat" compared to decades prior.
That is not to say media outlets have not been publishing or producing important stories on the environment; they have. However, as Hollie Smith and Brian McGreavy report in their 2018 Frontiers article, "the evolution of the journalism industry has placed increasing demands on news organizations to do more with less in a rapidly evolving news environment, and we are only now just beginning to understand what this means for in-depth scientific and environmental reporting."
These trends are shaped by decreasing budgets, the utilization of more freelance journalists, and the lacking dynamism of a fluid but scaffolded editorial agenda to prioritize stories on the environment over competing interests.
That is why we introduced at Resonance a series that features a science or environmental journalist spotlight each month. We seek to demonstrate via journalism professionals and excerpted articles from their portfolios the importance of their reporting to our work at Resonance and the work of other implementing firms, changemakers, and partners engaged in global development and sustainable impact work.
This month we spotlight Julia Simon, a journalist with significant accolades in the areas of climate and energy who has a promising new role with NPR with a focus we changemakers in climate and sustainability should be following.
NPR Adds Julia Simon to Newly-Created Climate Solutions Reporting Role
Bucking the media trend of scaling back on in-house environmental reporting, National Public Radio (NPR) announced in November it was building a new climate desk and adding a new reporter, Julia Simon, who would be covering climate solutions, a unique reporting lens.
The purpose of this new beat, according to NPR's press announcement, is to give its audiences an understanding of the scientific, behavioral and policy solutions people are adopting to address the catastrophic consequences of climate change. Simon was selected among a cadre of exceptional journalistic talent to lead this role, whose charge also includes working with the NPR team "to hold corporations, and others, accountable for green washing."
Simon is a climate and energy reporter and longtime contributor to NPR News and programming, including the Science, International and Business desks, as well as NPR's climate coverage. She has also reported for several NPR podcasts, including Planet Money, Rough Translation, Short Wave, Life Kit and Code Switch.
She is described professionally as a radio journalist specializing in "investigative story-telling," and some of her in-depth work for NPR includes how misinformation is derailing renewable energy projects across the U.S., as well as her documented investigative trip into the Sumatran rainforest in search of climate solutions, among others.
As is often the case of journalists, Simon has a passion for learning, which underpinned her year-long pursuit as a KSP Fellow studying international energy and climate change at the Sciences Po in Paris following her degree from the University of Chicago. This helped her hone her investigative capabilities in this area of focus.
Simon spent much of her early career reporting from Africa, the Middle East, and Southeast Asia. She was a foreign correspondent in Cairo– before and after the revolution, in Indonesia where she hosted a weekly radio show broadcast across Asia, and in Nigeria where she investigated the country's oil sector as a Fulbright Fellow.
In addition to her radio work, she spent time in print as a staff reporter at Reuters covering the energy economy. She has several fellowships and grants under her belt, and in addition to English, speaks Egyptian Arabic, Spanish, Indonesian, and French.
Simon's "Tree Math of Carbon Offsets" Demonstrates Importance of Science Journalism to Sustainability Work
The purpose of our science journalism spotlight series is to describe the importance of the work of journalists – be it in introducing new research, unearthing and explaining a problem, or making science and environmental topics more accessible – to the work we do. Simon's investigative piece for NPR's Planet Money, Tree Math of Carbon Offsets, illustrates that connection.
In her broadcast report, Simon, with journalist Amanda Aronczyk, introduces the growing number of pledges and commitments by major corporations to reduce their carbon emissions or achieve NetZero emissions goals (often by 2030) by trading their emissions for…forests.
This an emerging discussion, one in which Resonance is often immersed with sustainability leaders and catalyst organizations as a possible strategy worth exploring to address ESG goals and roadmaps and SCOPE emissions reductions, particularly as part of potential robust partnership considerations.
For context, nearly one-fifth of the world's largest companies have announced such commitments using a vehicle called carbon offsetting. If you decide to listen to the full report, you will note Simon and Aronczyk anchor their opening with the announcement by Microsoft CEO Satya Nadella of its corporate commitment to by 2030 be "carbon neutral."
In their report, Simon and Aronczyk take listeners through the math, or corporate accounting, inherent in company efforts to reduce their carbon footprints by paying someone across the world to not cut trees. They do so by making rather complex concepts more accessible, and certainly radio as a more immersive medium provides that kind of communicative bridge.
Their approach includes describing the stakeholder tricolon involved in the carbon offset chain, whom they dub for easy understanding the "forest boss," the "stamp-of-approval guy," and "the broker," interviewing some of the largest stakeholders to better understand their roles, interplay, and process, with attentiveness to whether these transactions do what they say they do in terms of achieving overall emissions reductions.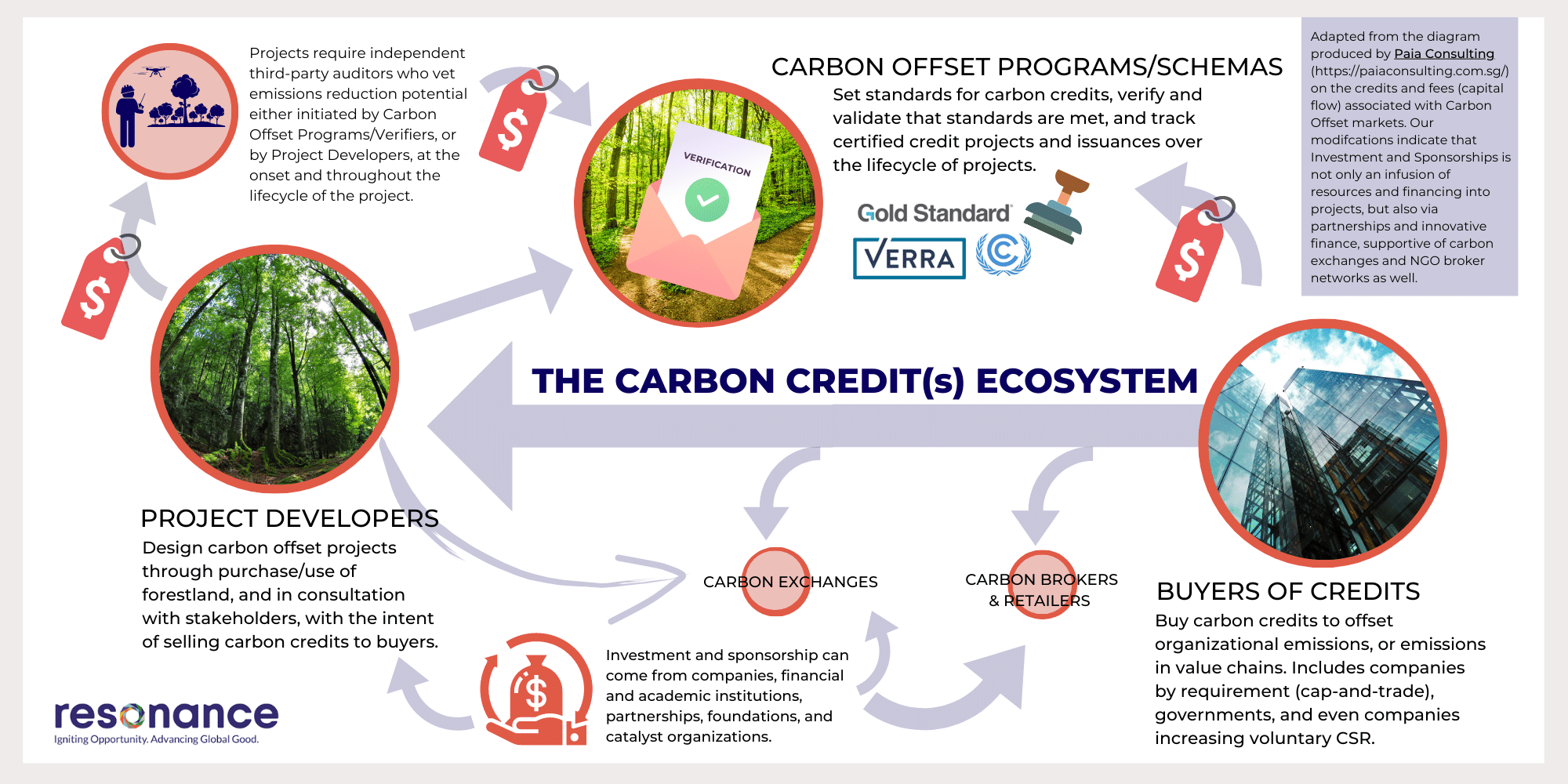 The real players interviewed include Dharsono Hartono, CEO and co-founder of the Katingan Project, one of the largest carbon credit forest preservation projects in the world, who shares with the reporting team how and why he entered the offset market via forest ownership as a business opportunity.
David Antonioli, CEO of Verra, a nonprofit that validates credits through verified standards and independent auditors forest projects like those established by Hartono, is also interviewed and describes the intensive and lengthy verification and validation process.
Finally, Diego Saez Gill speaks about his recent start-up, Pachama, which is receiving major investment backing by the likes of the Gates Foundation. His company automates the process of verification of offsets using satellite images, lidar, and artificial intelligence to more accurately measure changes in forest cover around the world. These verified forest profiles, and their respective verified carbon credits, are marketed through his company's website as offsets for corporate purchase.
Weaving together each interview as part of a robust story on how offsets work, Simon and her colleague help audiences not only better understand an emerging and potential solution that is gaining traction, but they also raise important questions about whether the carbon offset market and scaffolding delivers what it promises: real reductions in carbon emissions.
Sustainability Leaders Have Similar Questions about Offset Markets, Programs, and Schemas
These questions mirror what companies are grappling with as well when considering whether this is an avenue they want to pursue as part of their roadmaps. And in many ways, it may be a risky numbers game (the math matters), especially as emissions tracking becomes more entrenched in regulatory rather than voluntary frameworks. More than ever, companies must have assurances that what they claim they are doing through offsets translate into measurable actuality or risk being accused of greenwashing.
Revealing these complexities is part of the value of journalistic reporting like this piece produced by Simon, and what we hope to see covered in her new role as a climate solutions reporter at NPR.
Although investigative storytelling is not necessarily intended to treat complex challenges with the same level of depth that underlying source documents and research reports convey; the work of science journalists like Simon is to inform of us of possibilities, help us better understand how they work, and prod us to apply critical thinking skills in the form of questioning to evaluate solutions and initiatives.
We look forward to reading and listening to Simon's future reports on topics that are central to our own work and the work of our clients. To learn more about Julia Simon's career, and to read and listen to a sampling of her work, visit her website at http://juliaradio.com/stories.
---
Read our prior Science Journalist Spotlights including:
Rodrigo Pérez Ortega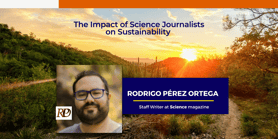 Dr. Sarah Crump (decd. 2022)