The concept of "recycling" is one of the earliest examples of circular principles in practice. And while a more structured recycling system didn't come into fruition in the US until the late 1900s, societies have been recycling and upcycling different materials for hundreds of years in the name of efficiency.
In the 1800s, the "ragman" went from house to house to buy old cloth for international trade that turned rags into paper. Later in the 19th century, more regimented trash collection systems emerged. Recycling and reusing of items were later kicked into high gear during WW2 because of deep rationing. The war resulted in the recycling of various materials such as cans, cooking oils and even the tin found in toothpaste tubes.
It was only in the 1960s that the practice of recycling began to intersect with the environmental movement, shedding light on the ways in which the recycling of different materials is an act of stewardship for the planet. However, in the early days of environmentally-driven recycling, those who participated had to bring their recyclable waste to private recycling centers themselves. It was only once landfills began to reach their limit in the 1970s that recycling was turned to as a viable solution to the growing mounds of waste. It was at this point that curbside recycling services and more formalized infrastructure began to develop across the US.
Today, a robust, yet fragmented system exists across the globe with nuances by location and material. However, generally, the process usually consists of 3 main steps:
collection
processing
remanufacturing
During the collection phase, recyclable materials are generated by a consumer or business and then collected by a private hauler, government entity, or more informally by waste pickers. Once collected, often from the curbside in residential neighborhoods or from office buildings and business centers, the waste is taken to a processing facility where the materials are cleaned, sorted and prepared to be transported to a milling or manufacturing facility. Depending on the material, an extra processing step may be required in order to make the materials into mill-ready form. After the processing is completed, recyclable materials are made into new materials and products at recycling plants or paper mills to eventually be redistributed out onto the market.
Challenges in Recycling
Although the process from collection through remanufacturing might seem straight forward, it really is anything but. For one, the materials that exist in today's market have become increasingly complex and diverse, requiring more intricate and complicated processing technologies to create mill-ready products. Essentially, material innovation has outpaced the technological evolution of our recycling system and created pronounced challenges for waste management facilities.
This has resulted in a fragmented recycling system where some processors are able and willing to take in certain materials and others are not. This has created a disjointed system that varies across counties, cities, states, and countries – leaving constituents confused and municipalities overwhelmed.
Given the range of materials that exist today, and the varying processes required to manage them, the monetary value that can be recovered ranges, too – making the recycling of certain materials unappealing and uneconomical. Additionally, the value of certain materials fluctuates as a result of certain market dynamics.
This is especially true for plastics; the low value of certain plastic refuse combined with increasing costs of recycling and fluctuating petroleum prices means that recycling plastic often costs more than creating new products using virgin plastic. Considering that highly recyclable plastics like #1 and #2 will also eventually degrade over time (after roughly 2-3 cycles), the economics of recycling many kinds of plastics have become less compelling to processors.
In the US, a key solution to managing less-than-ideal plastics and other materials has been to export them abroad to other countries that are willing to offload and process these lower quality materials. Historically, much of the lower quality recycled materials generated in the United States have been exported internationally to China and other countries under this system. However, in recent years, changing international policies have limited the export of materials.
In 2018, for example, China stopped buying recyclables from overseas, which created ripple effects across the globe and disrupted the flow of recyclable materials. For context, before the ban mainland China was the single largest importer of plastic waste, importing about 55.7% of world's plastic waste (equivalent to 14,304,561 tons).

That's like 70 of the world's largest cruise ships, or 5,700 Olympic swimming pools filled to the brim!
China's decision to stop offloading this quantity of plastic has created challenges for numerous countries who do not have the systems in place to manage this level and type of waste. While the US has attempted to re-route much of this waste to other East Asian nations, the reality is that mounds of plastic refuse have begun to pile up at home, drowning local municipalities and governments under the weight of managing them.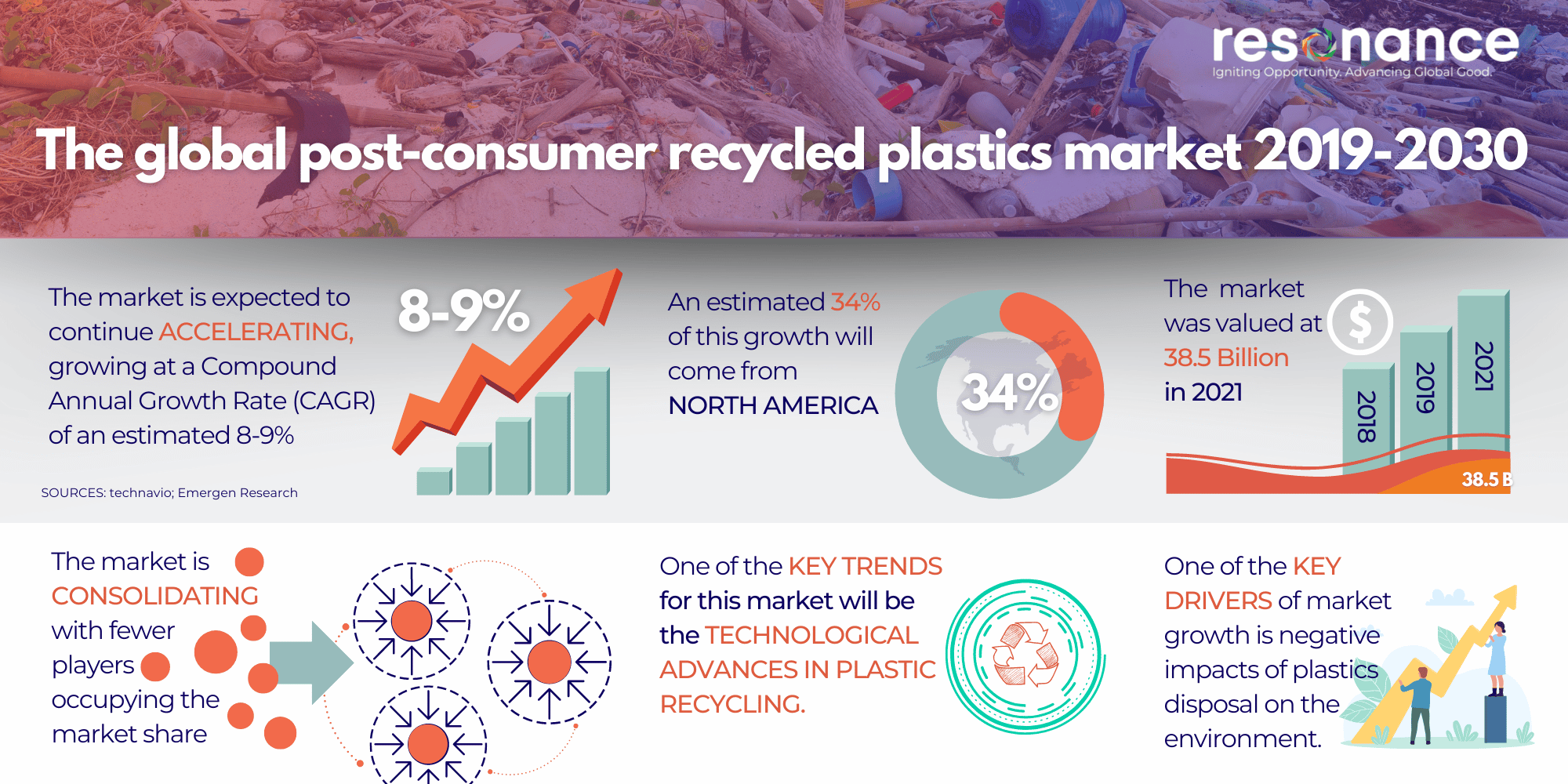 It has become clear that our recycling system has not only been outpaced by material innovation but also by rapidly increasing production and consumption rates. In only 50 years, global use of materials has nearly quadrupled and in 2021, the mass of human-made things was found to outweigh all living beings and biomass. The world is now producing twice as much plastic waste as two decades ago, with the bulk of it ending up in landfill, incinerated or leaking into the environment. Globally, only 9% of this plastic is recycled while 22% is mismanaged. Other resource intensive materials such as paper, textiles, electronics and chemicals face similar systemic challenges.
The rapid accumulation of waste from the excessive production, consumption, and disposal of these materials has resulted in profound impacts on both the built and natural environment. Leakage from overflowing landfills, intentional dumping of overflow refuse, and the incineration of waste with nowhere else to go continues to pollute cities and surrounding ecosystems.
In 2019, it was estimated that 6.1 million tons (Mt) of plastic waste leaked into aquatic environments, with 1.7 Mt flowing into oceans. The accumulation of waste in waterways is detrimental to marine life and the communities that live by, and rely on, these ecosystems. Considering that plastic waste tends to be most highly concentrated along the coasts of low- and middle-income countries whose livelihoods depend on thriving waters – the plastic problem is also an environmental justice issue, too.
Circular Trends, Approaches, and Solutions
As the world continues to confront its waste problem, we will continue to witness accelerated innovation and investment in sustainable, just, and circular solutions that support the recycling revolution. These solutions should be aimed at increasing recovery, availability and usage of post-consumer recycled materials, moving the needle on recycling rates across the world.

There are many different pathways that lead towards a more robust recycling system; however, many require the development of policy (such as extended producer responsibility schemes or post-consumer recycled material mandates) at both the local and national level, and increased access to capital to support the development of recycling infrastructure. As of 2023, six states in the US have active EPR laws and four states have passed laws requiring post-consumer recycled content in plastic packaging – with many more states following suit.
Today, many companies, brands, NGOs, government agencies are banding together to create coalitions and initiatives aimed at collectively advancing recycling technologies, increasing the recovery of recyclable materials, and shaping the future of EPR.

For example, The U.S. Plastics Pact brings together businesses, not-for-profit organizations, government agencies, and research institutions to work together toward a circular economy for plastics, as outlined by the Ellen MacArthur Foundation's New Plastics Economy Initiative. Similarly, The Plastic Pollution Coalition is a global alliance that includes more than 1,300 organizations and 14,000 individuals who are united behind the goal of creating a more just, equitable, regenerative world free of plastic pollution. The American Circular Textiles (ACT) policy group promotes mechanisms capable of improving textile reuse rates and mitigating waste such as EPR policy and the revision of the FTC Green Guides.

Together, these groups are advancing a more circular economy by pulling on various levers and involving a network of stakeholders. A systems level challenge like circularity requires buy-in and collaboration across the materials value chain – highlighting the necessity of industry wide partnerships such as these.

In addition to collective advocacy efforts, companies are also making significant strides towards circularity by embracing sustainable materials and packaging within their own value chains.
Corporate Commitments Related to Circularity of Plastics
The journey towards circularity often starts with commitment making and/or target-setting, creating a layer of accountability within the industry. For example, Coca Cola has stated a goal of making 100% of their packaging recyclable globally by 2025 and to use at least 50% recycled material in their packaging by 2030. By 2024, Adidas is aiming to replace all virgin polyester with recycled polyester in all products where a solution exists. And just this week, PepsiCo's Chief Sustainability Officer Jim Andrew provided featured insights in a Forbes article on getting closer to global plastic circularity, written by Rob Kaplan, Founder and CEO of Circulate Capital
These are just a few examples of cross-cutting commitments that demonstrate the sense of urgency shared by various industries to tackle the circularity challenge. Through these commitments, companies are helping to drive greater demand for recycled products – which can in turn help address the economic shortfalls of our recycling system.

Although the increased recovery and recycling of plastics and other materials remains a key focus area for governments and organizations, we will also need to think beyond the Mobius strip to create a holistic waste management system that embodies circular principles and practices. Alternative areas of exploration include the development of novel materials such as bioplastics, compostables, and natural fibers, the scaling and normalization of reuse and repair systems, and consumer behavior change campaigns.
Partnerships and Collaboration Key to Circularity Including Plastics
The circularity space is ripe for innovation that encourages both businesses and society to reimagine their relationships with waste. Many of the organizations and businesses engaged in partnerships we manage, as well as companies participating in our Sustainable Impact Exchange roundtable series, view both the challenges and opportunities inherently critical to their long-term strategic sustainability goals and roadmaps, particularly in collaboration with other stakeholder companies downstream in their supply chains. We anticipate this will be an area that will require tremendous coordination and ingenuity to drive solutions and greater sustainable impact.
---
This is the third in a series of Insights published by Natalie Kra, Resonance Manager of Sustainability Initiatives. Read Natalie's articles focused on Circularity:
The Growing Emphasis on Measuring Circularity