Earlier this year we publicized the launch of a Global Development Alliance (GDA) between Microsoft, USAID, and Resonance as part of the expansion of USAID's Digital Invest portfolio. Announced by President Biden in June 2022 as a flagship program under the G7-led Partnership for Global Infrastructure and Investment, Digital Invest is a blended finance program that seeks to mobilize capital for digital connectivity infrastructure and digital financial services in emerging markets.
The USAID-Microsoft​-Resonance​ GDA aims to support internet service providers (ISPs) in connecting community anchor institutions that are of critical social and economic importance in typically underserved, underdeveloped areas. ​Under this GDA, partners have established a new "Incentive Fund" that, through a a blended finance approach, addresses the risks associated with revenue gaps and revenue uncertainty that often impede the business case for investment in, and expansion of, ISPs ​to such institutions ​in unserved or underserved communities.
​This Incentive Fund aims to address the digital divide that remains in many communities throughout emerging market countries in which some communities, groups of people (especially women), and types of institutions remain unconnected to the internet. ​The digital divide ​can prevent unconnected communities from accessing critical information,​​​ education, health​care​,​ finances,​​​ and other essential services​, especially as the world moves toward digital platforms and service delivery for many such services.
​Executing a Results-Based Financing (RBF) Approach

This GDA takes a new, innovative approach to incentivizing ​internet ​network expansion​ of ISPs​; instead of deploying traditional grants, which are paid ex ante for inputs and activities, the Fund will pay ISPs ex poste for the number of community anchor institutions connected, as verified by an independent party. This payment structure is a form of results-based financing (RBF) aimed at making more effective use of funds by ensuring program objectives are met before payout. 
"This RBF initiative is well aligned with our approach to sustainable impact. It presents a novel opportunity to incentivize business model innovation that explores new markets and services offerings for consumers, catalyzing positive impact outcomes in day-to-day lives and attracting capital to fuel further investment and growth," says Jay Chikobe, Senior Associate of Design & Innovation at Resonance. 

In this case, payments are designed as modest incentives to motivate ISPs to expand services to community anchor institutions such as schools and health clinics as part of their expansion within traditionally underserved communities that hold promise of commercial viability over the long-term, but still require more innovative approaches as well as flexible and patient capital. 
​3​ New Participating​ ISPs​​

The GDA officially entered the implementation phase last month with the signing of 3 ISP partners spanning underserved areas of India, Nigeria, and South Africa, and the inclusion of an Independent Verification Agency (IVA). These ISPs were selected based on their demonstrated technical expertise and organizational capacity, as well as alignment of their proposed plans with the incentive fund's overarching mission. The GDA also gave preference to ISPs that identified anchor institutions owned by and/or tailored to serving women and girls in order to further advance the fund's inclusive innovation goals. 

The ISPs selected include the following:
1. AirJaldi 
AirJaldi is a leading innovator and implementer of technically and economically viable internet connectivity solutions for rural areas in India. AirJaldi's mission is to create sustainable broadband internet networks and related offerings, enabling digital transformative opportunities for community members and organizations. AirJaldi currently serves organizational, enterprise, institutional, and individual clients in ten Indian states, with plans to expand.

"In our areas of work, internet adoption among institutions tends to be "shallow." These institutions may have connectivity of some sort, albeit ​​one that is often limited in speed, coverage and usage," says Michael Ginguld​, Director of Strategy and Operations​. "We hope to use the funding given ​[by the Incentive Fund] ​to encourage our chosen customers to transition from shallow to skilled and purposeful users, ones who are able to realize the full value of internet connectivity for their organizational goals. We will be targeting schools, local government offices (village, block and possibly district level), health and welfare facilities and NGOs."
2. Ekovolt Telco Limited  
Ekovolt Telco Limited is a leading Telecommunications and Information Technology company based in Nigeria dedicated to revolutionizing broadband access in emerging markets. With a team of experienced professionals, the organization provides affordable and reliable broadband solutions for diverse sectors in Nigeria including homes, hospitals, schools, and businesses. With a wealth of expertise and robust team experience, Ekovolt delivers cutting-edge, tailored solutions, driven by a vision to create a world where reliable and affordable broadband services are accessible to all, bridging the digital divide and transforming lives. 

"As a catalyst for change, we understand the transformative power of internet access. It opens up a world of opportunities, enabling individuals and communities to thrive in the digital age," says Emeka Ebo, founder of Ekovolt. "By participating in this program, we are extending our reach and amplifying our efforts to bridge the digital divide." 
3. Ilitha Telecommunications
Ilitha Telecommunications is a recently established broadband provider that ​offers​​​ quality broadband to unserved communities in the townships and rural areas of South Africa with a goal ​​to connect over 600,000 township and rural homes to the internet using optic fiber and a variety of radio frequency-based technologies. Usually, providing quality broadband to these communities is seen as a trade-off between profitability and affordability. However, the organization has found commercial models that enable them to provide a return on investment for their shareholders while delivering affordable quality broadband to these markets, thereby bridging the digital divide. Currently, Ilitha operates a network in the Mdantsane township of East London in the Eastern Cape Province with plans to establish a presence in Durban, Bloemfontein and Johannesburg over the next 24 to 36 months.
"We believe that access to broadband infrastructure is a powerful tool that can promote economic growth and social development," says Adrian Lotz, Co-Founder and Financial Director of Ilitha. "By engaging with this ​I​​​ncentive ​F​​​und, Ilitha hopes to enable as many spaces of civic engagement as possible to have access to the internet. Access to affordable, quality broadband is a fundamental cornerstone of human living. We see the areas of the biggest impact for this work being in education, healthcare delivery, remote jobs for youth, as well as community safety."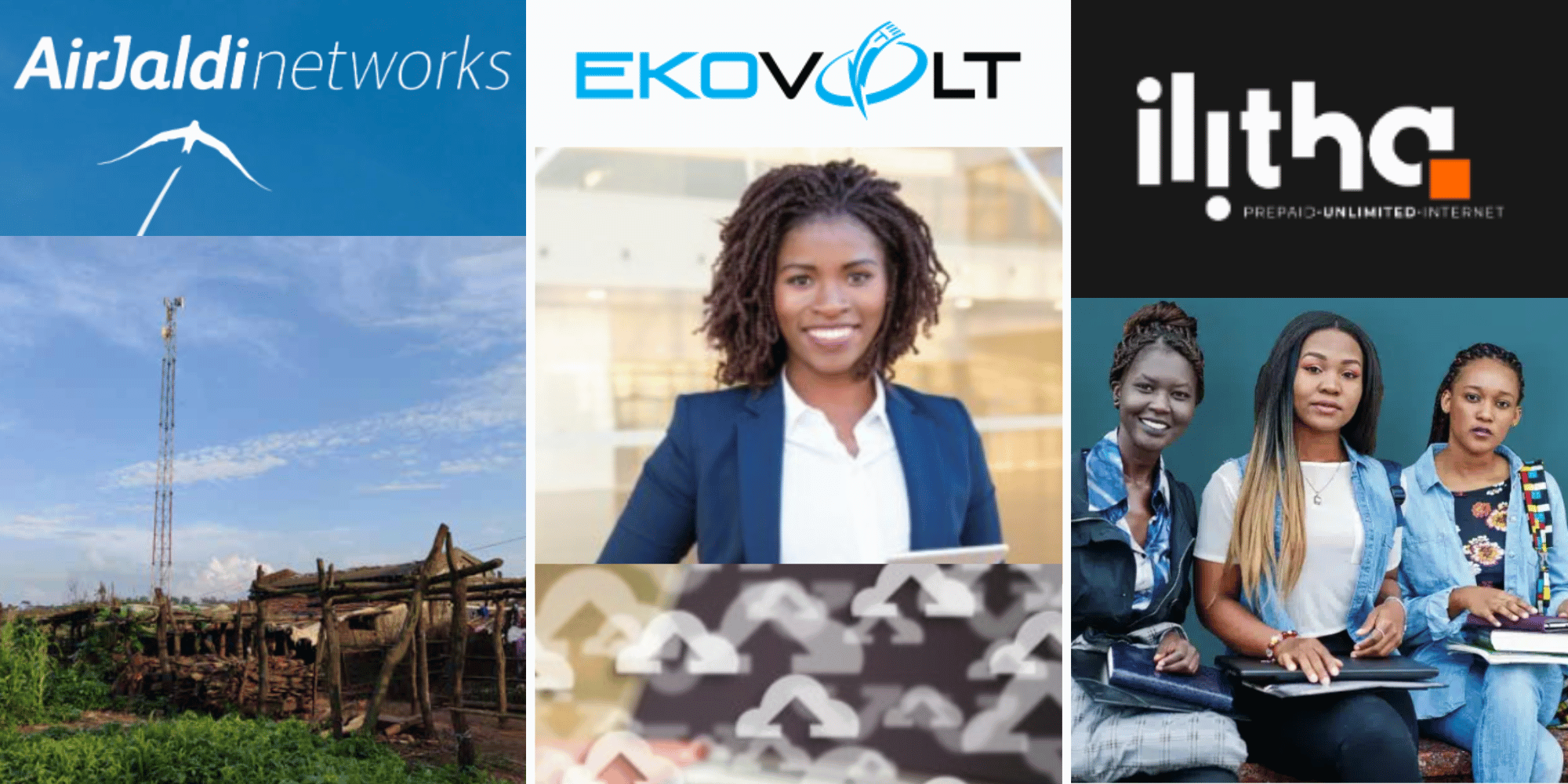 Geeks Without Frontiers to Serve as Independent Verification Agency (IVA)
To ensure that incentive payments are made to the ISPs for quality connections that meet the program requirements, the GDA also brought on Geeks Without Frontiers to serve as an IVA. The role of the IVA is to validate claimed connections by the ISPs, which then triggers Fund payments.
According to Geeks Without Frontiers, its mission is to "promote technology for a resilient world." The organization is committed to bringing the benefits of internet access to the estimated 3 billion people who remain unconnected by leveraging the benefits of ​​exponential preparedness technologies as well as data, connectivity, and other scalable solutions, and through the creation of innovative regulatory and business models designed to democratize and accelerate connectivity. 
Working through partnerships is essential to achieving real and lasting impact. The type of impact the GDA partners are targeting will be realized at each stage of the digital value chain; investors will see a return on investment for incentivizing ISPs to serve new clients, ISPs' businesses will be improved by adding subscribers to their networks, and the anchor institutions will bring digital solutions to their communities such as distance education for children, tele-medicine for patients, vocational training for local workforce, and so much more. 

- David Hartsorn, CEO of Geeks Without Frontiers.
Through this multi-stakeholder, multi-faceted partnership, the GDA anticipates a total of 300 new institutions to be connected across the duration of the program.
Strategic Partnerships and Innovative Finance Drive Impact
Resonance joined the GDA as the program implementation partner, bringing deep expertise in innovative finance and multilateral partnership development. As Fund Manager, our team of experts facilitate and guide the process, solutions, design, and implementation, which is paramount when more innovative financing approaches like RBF are being tested and utilized.

This GDA will demonstrate a potential avenue for supporting and financing last mile connectivity, critical for other donors, country governments, and digital inclusion stakeholders who may be considering vehicles for deploying investments into the sector. This includes documented impact and potential for both ISPs, as well as, most importantly, the local communities and people served by initiatives like these.

This is the power of partnerships, and innovative solutions, in global development and sustainable impact work.
---
Learn More...
The USAID Digital Invest Program
Digital Invest is a blended finance program that seeks to mobilize private capital for digital connectivity infrastructure and digital financial services that strengthen open, interoperable, reliable, inclusive, and secure digital ecosystems in emerging markets. Digital Invest supports global investment fund managers, project developers, and other private sector partners seeking to accelerate sustainable market growth for internet service providers (ISPs) and financial technology companies (fintechs) that reduce the digital divide by serving traditionally excluded communities in developing markets. ​​


​​​The Microsoft Airband Initiative
The Microsoft Airband Initiative convenes the growing network of internet and energy providers, government agencies, nonprofits, and private sector focused on closing the global digital divide. The three-pronged approach of Airband includes (1) Facilitating the digital infrastructure required for internet access; (2) Digital transformation via digital skills training, access to devices, and deployment of solutions that support the safe, productive use of digital technologies across communities; and (3) Scaling -- by advocating for public policies, programs, and funding opportunities that enable communities to maximize the value of their connectivity.​​​​