Earlier this year, the Ecdysis Foundation, led by Dr. Jonathan Lundgren, Director/CEO of Blue Dasher Farm, launched the 1,000 Farms Initiative, with the goal of a long-term intensive study of farming practices on farms across the country.
The aim of this initiative is to analyze the benefits of a shift to regenerative agricultural practices at a time when companies, consumers, catalyst organizations, and even governments, are encouraging change on farms in response to wicked problems like climate change and emissions, biodiversity threats, and pollution impacts.
The South Dakota-based nonprofit issued an invitation to US farmers for participation, with the hope of including 350 farms from several of the 10 delineated eco-regions across the US in year one, and an additional 500 during 2023.
Much to the team's surprise, interest outpaced expectations, and farmers from all over the world – from South and Central America, Europe, and Africa – registered to be part of the study.
Although exciting and a testament to the growing interest among commercial and smallholder farmers to test and integrate regenerative agriculture practices, the Ecdysis Foundation began with a narrower US-based study scope to start. Scientists engaged in the initiative were able to visit 389 farms in 2022, doing a deep-dive collection of data, from soil composition and biodiversity to the nutritional value of harvested crops, among other datapoints.
Collected data was compiled into robust databases, and research teams were able to conduct analysis immediately with the hopes of publishing within weeks of the now completed field season.
"That experimental framework on a global scale is going to be extremely useful," noted who added he anticipates the data will verify some benefits of regenerative AG practices but may also challenge some commonly held beliefs.
Why is Regenerative Agriculture Critical?
Regenerative agriculture reimagines farming in line with natural systems, with a focus on replenishing, restoring, and reusing key resources. From a supply chain, sustainability and ESG perspective, when done right, regenerative agriculture can help companies make good on targets linked to climate change, deforestation, biodiversity loss, water quantity and quality, and farmer livelihoods.
From the perspective of farmers, the need for regenerative agriculture and farming practices has entered the conversation in many regions across the globe where widespread soil erosion and decreasing land productivity in the face of climate variability is threatening multi-generational livelihoods.
With a growing global population and correlating demand for food, additional pressures such as market volatility and disruptions, a declining population of producers, and unprecedented levels of farm debt, bankruptcies, and exclusionary practices that restrict access to resources, are some reasons why small farmholders are exploring regenerative ag options.
What are Regenerative Farming Practices?
There are many approaches to regenerative agriculture and farming practices, often driven by specific challenges and even diverse philosophies.
There are also considerations of scalability – from the implementation of small, incremental approaches and changes field by field, farm by farm, to the kinds of wider paradigm shifts that advocate an integrative, holistic approach to reimagining farming systems and improving ecosystem health.
At its core, regenerative agriculture is the process of restoring degraded soils using practices (e.g., no-till planting, adaptive grazing, limited or no use of pesticides and synthetic fertilizer, etc.) based on ecological principles.
Essentially, regenerative agriculture and farming practices strive to work with nature to reverse degradation and build up the soil to make it healthier than its current state. Additional benefits include improved water management, increased plant diversity, removal of harmful chemicals from ecosystems, and and diversifying farm incomes.
Key regenerative agriculture practices include:
Rotational grazing
Integrating animals as much as possible into the farm – like utilizing manure as fertilizer
Rotating diverse crops
Intercropping (or increasing crop diversity)
No-till to low-till farming (to minimize disturbance to the soil and prevent soil erosion)
Use of cover crops (to protect soil, boost water retention, and suppress weeds)
Reduced pesticide and fertilizer use
Agroforestry and silvopasture (or integrating trees or shrubs into farming systems)
As we previously described, the most promising regenerative agriculture interventions also take a farmer-centric approach, expanding the concept of regenerative agriculture beyond the field to integrate farmer and farmworker welfare and strengthen rural communities.
Growing Corporate, Catalyst and Partnership Interest in Regenerative AG Practices
The interest in Regenerative Agriculture and farming practices has been garnering steam in the last decade across sectors and organizations, with more pronounced activity in the last 2-3 years.
Since 2021, a number of major companies have announced significant investments to source from regenerative farms, or to help farmers in their supply chains adopt regenerative and regenerative + organic agriculture practices. This includes Patagonia, Walmart, Stella McCartney, Danone, Timberland, General Mills, among others.
Here we highlight three initiatives that demonstrate not only a commitment to advancing innovation, but also unique partnership approaches we find valuable given our own capabilities and expertise in partnership development and sustainable impact integration in the AG, food and beverage sector.
Unilever Forging Ahead with Commitments to Regenerative AG in Practice
For example, Unilever, which requires 4 million hectares of land to grow the raw materials for its products used by more than 3 million people daily, unveiled last year its new Regenerative Agriculture Principles, designed to enhance the company's existing Sustainable Agriculture Code.
The company also established what it calls 'Lighthouse' Programmes to test the implementation of the Regenerative Agriculture Principles in practice and "signal the way to a positive future."
According to the company's anouncement,
These programmes will help us understand the kind of support suppliers and their farmers need to start using regenerative practices. Together with a network of soil and farming experts, we're helping suppliers to identify which practices will deliver the most positive impact overall and supporting them to develop tracking and measurement systems."
Just last month, Unilever announced a partnership with AXA and Tikehau Capital, entering a six-month due diligence process to work in collaboration to land the theory of an investment tool that will help accelerate the shift of agriculture and food value chains towards regenerative practices.
PepsiCo Regenerative AG Practices Support Suppliers and Reduce Emissions
To both support its 250,000 suppliers along its supply chain and help meet its goal of achieving net zero emissions by 2040, PepsiCo committed to spreading regenerative agriculture practices across its key ingredient footprint, equal to 7 million acres.
In doing so, the company estimates this will cut at least 3 million tons of greenhouse gas emissions by the end of this decade.
In addition to its ambitious Pep+ sustainability platform launched in 2021, PepsiCo issued this summer a $1.25 billion green bond set over a 10-year period, designed to distribute funds toward regenerative agriculture and other projects.
Then in September, the company said it was partnering with Archer Daniels Midland (ADM) to conduct regenerative agriculture projects – involving, wheat, corn and soy farmers in the Midwest – that could reach two million acres of farmland by 2030.
A month later, PepsiCo announced a set of grants through its Global Agriculture Accelerator/The Positive Agriculture Outcomes Fund to 14 business projects across 11 countries to improve their agricultural technology.
Bayer Announces Groundbreaking Partnership with Perdue AgriBusiness
Last month, Bayer announced the first agrifood value chain business-to-business collaboration under the company's new ForGround platform. Working in partnership with Perdue AgriBusiness, the two companies are leveraging the strengths and scale of both organizations to create a blueprint for businesses to assess their carbon footprint and rapidly scale up their ability to reduce Scope 3 emissions.
At the same time, the aim of the initiative is to also create a model for more sustainable food value spanning across Perdue's entire grain network. It is intended to create additional opportunities to help support farmers on their regenerative agriculture journey, benefiting their land and helping them produce more environmentally friendly foods and ingredients for businesses and consumers.
Through this ForGround collaboration, Bayer and Perdue demonstrate how companies can create a mutually beneficial model that supports and incentivizes farmers interested in sustainable practices while reducing the companies' own carbon footprints.
The innovative partnership approach will explore several tools and strategies including potential compensation to farmers for tracking their carbon footprint, benefits, and tools such as science-based agronomic support, cost savings rebates, service discounts, and additional incentives for adopting regenerative farming practices.
The emission reductions achieved through the regenerative farming practices adopted by Perdue grain farmers improve the sustainability of the value-added foods and ingredients that are used to produce Perdue's portfolio of products.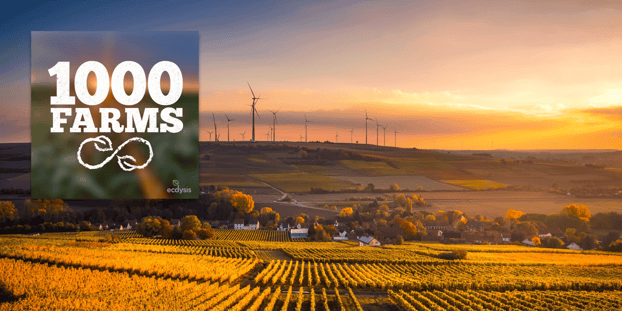 Meanwhile…Back on the Farm (1000 of Them!)
The unexpected global response to the 1000 Farms Initiative reflects this same growing interest in regenerative agriculture and farming practices among diverse and vast stakeholders. Supported by funding from Rockefeller Foundation, the rigorous initiative will be the most ambitious, focused inventory of agroecology to date, evaluating the power of regenerative agriculture.
The goals of this initiative are twofold:
to test whether regenerative farming works, regardless of where you live or where you grow; and
to develop roadmaps that farmers can use to successfully transition to regenerative production.
By 2023 the 1000 Farms Initiative will be conducting full ecosystem and economic inventories on 1000 farms annually; by 2025 the goal is to use partnerships, demonstrations, and education curricula to extend the reach of the research to over 600,000 food producers. The study will include every region of the United States, and farmers and producers at varying levels of regenerative adoption.
Of his organization's ambitious study, Dr. Lundgren noted,
"For years, success stories about regenerative food systems and their potential for carbon sequestration, water retention, promotion of life, and profitability have been dismissed because critics insisted on data to 'validate' the impact of regenerative agriculture at a mass scale. This is that study."
Scaling Regenerative AG through Partnerships
Regenerative agriculture and farming practices sit at the intersection of productive farming, a healthy environment, and social and economic health and resilience. "The many moving parts at the nexus require appropriate science to better understand the system-level interactions of farms, and to develop and deliver relevant, forward-thinking solutions to growers," notes Lundgren.
We are learning more from our own work in partnership development with companies and catalyst organizations that innovative, on-the-ground regenerative practices must happen at the farm level with intimate collaboration with smallholder farmers.
At the same time, it is becoming more evident that long-term solutions and delivery needs to reach growers at a much larger scale. And this will require innovation, strategic investment in a constricted global economy, innovative finance mechanisms, and creative, strategic partnerships where all partners benefit, especially farmers and communities.
We anticipate seeing even more exciting developments in 2023 in this area, and will continue to lean on the insights of sustainability leaders to better understand and anticipate the most promising levers for transformative, breakpoint change.