It is estimated that 1.5 million Guatemalans lack access to energy, primarily in rural and Indigenous communities, including the highland regions of Alta Verapaz and Huehuetenango. Without access to electricity, people also lack access to connectivity to information and communications technology (ICT), which is important to educational and health resources, as well as market access.
Guatemala's patriarchal societal structure exacerbates this digital divide for girls and women in the region, particularly Indigenous women, who lag other groups in educational attainment, literacy rates, economic participation, and household and community decision-making. As a result, exclusion negatively impacts their opportunities for employment, salary, and financial stability.
Digital investment is critical to addressing this divide. To that end, New Sun Road, a grantee under the USAID-supported MujerProspera Challenge, implemented by the Resonance-managed Catalyst Initiative, is seeking to close that gap through its recently established, off-the-grid 20 solar-powered and internet-enabled Digital Community Centers (DCCs) located in remote communities in the western highland region.
Funded by Microsoft, USAID MujerProspera, and the USAID/Microsoft Airband Initiative, and launched as in September 2021, these DCCs are providing electrical power, internet connectivity, and digital skills training to more than 2000 Guatemalan Indigenous women in their native languages. The strategic approach rests on the implementation of locally tailored projects that not only extend Internet coverage, but also develop stronger technical pipelines to ensure inclusive connectivity and employment programs for women. Ultimately, the initiative seeks to demonstrate the business case for women's connectivity and women's economic empowerment (WEE).
Human Centered Design Central to WEE and Digital Access and Literacy
New Sun Road and its partners centered the expressed needs of women in its localized approach to facilitating digital access. This came in the form of initial focus groups that also delineated potential barriers up front. Interest among interviewees at the onset included Internet access for health services and information, enhancing their children's educations (e.g., assisting with homework), and for training in entrepreneurial and marketing skills to sell local artisan goods and crafts to a broader market. NSR's DCCs provide women these opportunities through accessible, safe, and inclusive spaces, and include ongoing instruction to help them learn how to utilize the Internet to benefit their lives and family livelihoods.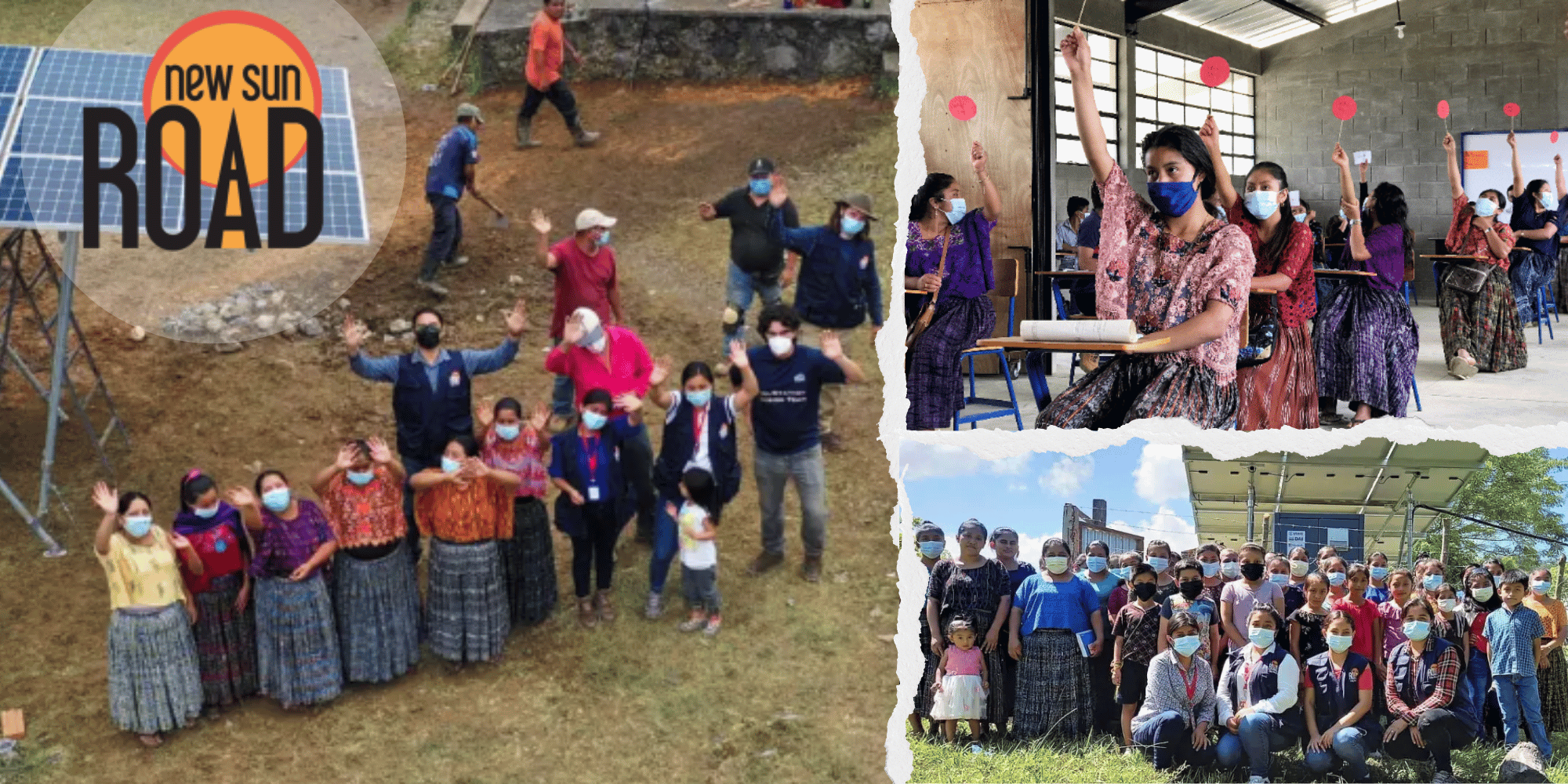 Human-centered design has been central to the many projects and activities under the USAID-Microsoft Airband Initiative umbrella to ensure that women's needs and realities are the focal points of inclusive and meaningful connectivity.
USAID support extends beyond financial resources. It also includes local gender expertise in project design, as well as public-private partnership facilitation to identify local Internet service providers and community champions to facilitate implementation and garner trust and acceptance. A broad coalition in addition to USAID and Microsoft includes partners Ixtatán Foundation, United Nations Women (UN Women), Mercy Corps, UN World Food Program (WFP), Plan International, and Club Rotario de la Asunción de Guatemala, collectively tasked with engaging communities, defining programs, and delivering results.
Women's Economic Empowerment (WEE) Extends to Women's Management of DCCs
New Sun Road was recently featured in the USAID Women's Economic Empowerment Community of Practice newsletter as a Member Spotlight for this work in Guatemala. It was gratifying to note that the initiative has managed in only 18 months to transfer management of the DCCs to local women, propelling their access, standing, and influence in decision-making, outreach and ultimate impact. Communities democratically elect DCC Women's Leadership Committees, which are recognized by the Community Councils. These new women leaders have provided more than 12,000 service touchstones, building economic opportunity for themselves, their families, and their communities with broader access to online government services, customer engagement, and continuing education.
It is hoped that the success of this initiative will provide a scalable, evidence-based, and transferable model for other rural regions in an effort to accelerate progress to close the gender digital gap and improve women's livelihoods, economic security, and resilience.

To Learn More about these women-managed centers, view the New Sun Road initiative profile on Youtube, below:


---
Sidebar Story: The Technology Powering the DCCs in Guatemala
Alongside this important story about women's empowerment through digital connectivity, New Sun Road's involvement as a Catalyst grantee and connectivity provider also illustrates the important role of testing technology and innovation-based solutions to address our most pressing development and sustainability challenges.

The company has attributed its ability to install ten of its Stellar Integrated Systems (IS) in ten days as part of this initiative, despite remoteness, terrain, lacking road infrastructure, and challenging rains, to what the US-based company calls "the rapid-deploy, plug-and-play benefits of Stellar IS, for the hardest-to-reach communities."
These are solar-powered microgrids, 3 to 5 kW each that provide enough electricity and Internet to reliably power DCCs. They rely on cloud-controlled systems using IoT technology to provide electricity and WiFi, which serve as the foundation for digital literacy programs designed for, and run by, women in the initial communities of Cobán, San Pedro Carchá, Tucurú, and Panzós.
As climate change intensifies, pushing some of the most vulnerable communities into migration, we need to deploy renewables-based microgrids quickly to meet the challenges. Stellar systems provide resilient power and connectivity that these women need for their families. We must support their aspirations at scale, fast. That's why we're so pleased to have completely outpaced even our best-case scenario. It's difficult for a single team to even visit these 10 remote villages in 10 days, let alone install 10 microgrids in that time." - Jalel Sager, CEO and Co-Founder of New Sun Road.
To learn more about New Sun Road, its many initiatives, and its Stellar IS, visit the company's website.