Given Resonance's prominence as a global implementing firm, we are often working side-by-side with, and in support of, innovative changemakers who are making a real difference and impact on the ground in their communities, influencing long-term transformations in natural and social systems, institutions, and policies.
One such changemaker is Trang Nguyễn who founded the conservation organization WildAct Vietnam in 2015 with four aims:
To conserve threatened species and ecosystems based on sound science
To provide conservation education and capacity building programs for young Vietnamese in both urban and rural areas across Vietnam
To change minds about conservation priorities through local needs and scientific evidence, and
To cooperate with other conservation NGOs and other stakeholders to tackle conservation issues.
In 2020, Nguyễn and the organization she leads added another robust yet integrated aim and program into the fold of its mission: "Empowering Women in Wildlife Conservation." Made possible through funding from Alongside Wildlife Foundation and the J. van Walraven Fund, WildAct Vietnam began leading efforts in the country to raise awareness on issues of workplace sexual harassment, particularly for women engaged in science and conservation fields.
The organization also established a Women in Conservation Network in Vietnam where conservation professionals can share experience, give support and advice, and contribute to a growing knowledge base about the challenges women face in leading, researching, and working in conservation.
This effort was bolstered and expanded when WildAct Vietnam was announced as one of 9 organizations awarded a grant through the Resilient, Inclusive and Sustainable Environments (RISE) grants challenge, the first-of-its-kind initiative to address gender-based violence (GBV) in environment contexts and climate-related sectors.
Funded by the United States Agency for International Development (USAID), RISE is a direct response to key research findings by the International Union for Conservation of Nature (IUCN) on gender-based violence and environment linkages.
As part of this effort, Nguyễn and her organization are developing and strengthening tools to protect people from GBV through research and assessment of organizational policies, development and implementation of a mutually agreed code of conduct among stakeholders, and development of a shared reporting system to collate incident reports and provide support and assistance, among other activities.
Nguyễn Shares her Organization's Progress in Combatting GBV as part of COP15 in Montreal
As part of a side event of the UN Convention for Biological Diversity (CBD) Conference of Parties (COP15) in Montreal on December 10, 2023, Nguyen served on a panel discussion and webinar hosted by the IUCN alongside others about her organization's work to combat the many forms of Global-based violence often linked to resource scarcity, environmental degradation, and climate change.
The event was open only to delegates and participants in COP15, but some of the important points are captured here for our readers.
A Foundational Step is Understanding the Factors and Context Contributing to GBV
As is often the case regarding GBV, centuries of place-based cultural norms that include prescribed and perceived gender roles and structural attitudes can play a role in how women are treated in contemporary society and in work in specific fields and sectors.
Vietnam is no different in that the context that creates and exacerbates GBV, and in this case specific to the field and practice of conservation, is indeed unique, and must be both understood and traversed with sensitivity to ideally address specific challenges.
This is a foundational key learning from this work – there is no one universal approach to addressing GBV, since underlying factors that shape the many forms GBV take vary widely.
Understanding the challenge both broadly and with specificity is something Nguyễn values as foundational to developing solutions that will have more traction and impact. To that end, collecting data and information, documenting shared narratives and accounts, and assessing baselines is a critical component of WildAct's approach to addressing GBV and women's empowerment in conservation.
As part of these efforts, the organization conducted the first-ever study into the attitude towards sexual harassment in wildlife conservation sector in Vietnam. The results from the survey were described as surprising, alarming, illuminating, and troubling.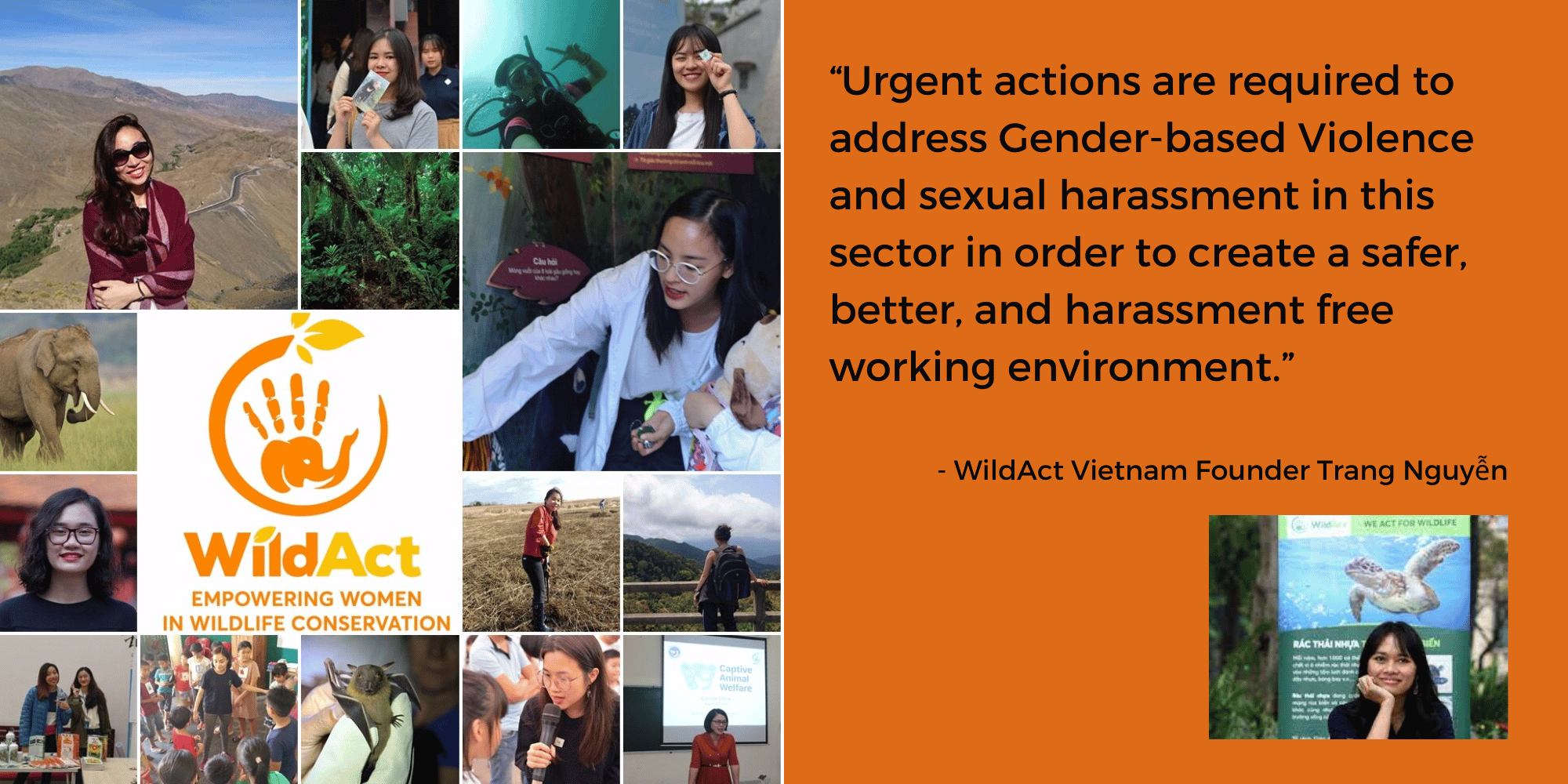 Providing GBV Training and Outreach through RISE Funding and Participation
Alongside expansive educational programs focused on conservation in Vietnam, WildAct is also focused on outreach and training to create a safer workplace and safer conditions for women working in the conservation sector.
Last May, the organization hosted a workshop, "Gender-based Violence in the Wildlife Conservation Sector" supported through RISE grant challenge funding.
Noted one participant of the value of this 2-day workshop, "This was an opportunity for me, a male participant, to see through the eyes of my colleagues, especially female colleagues, and understand the challenges and difficulties that they are facing in the wildlife conservation sector."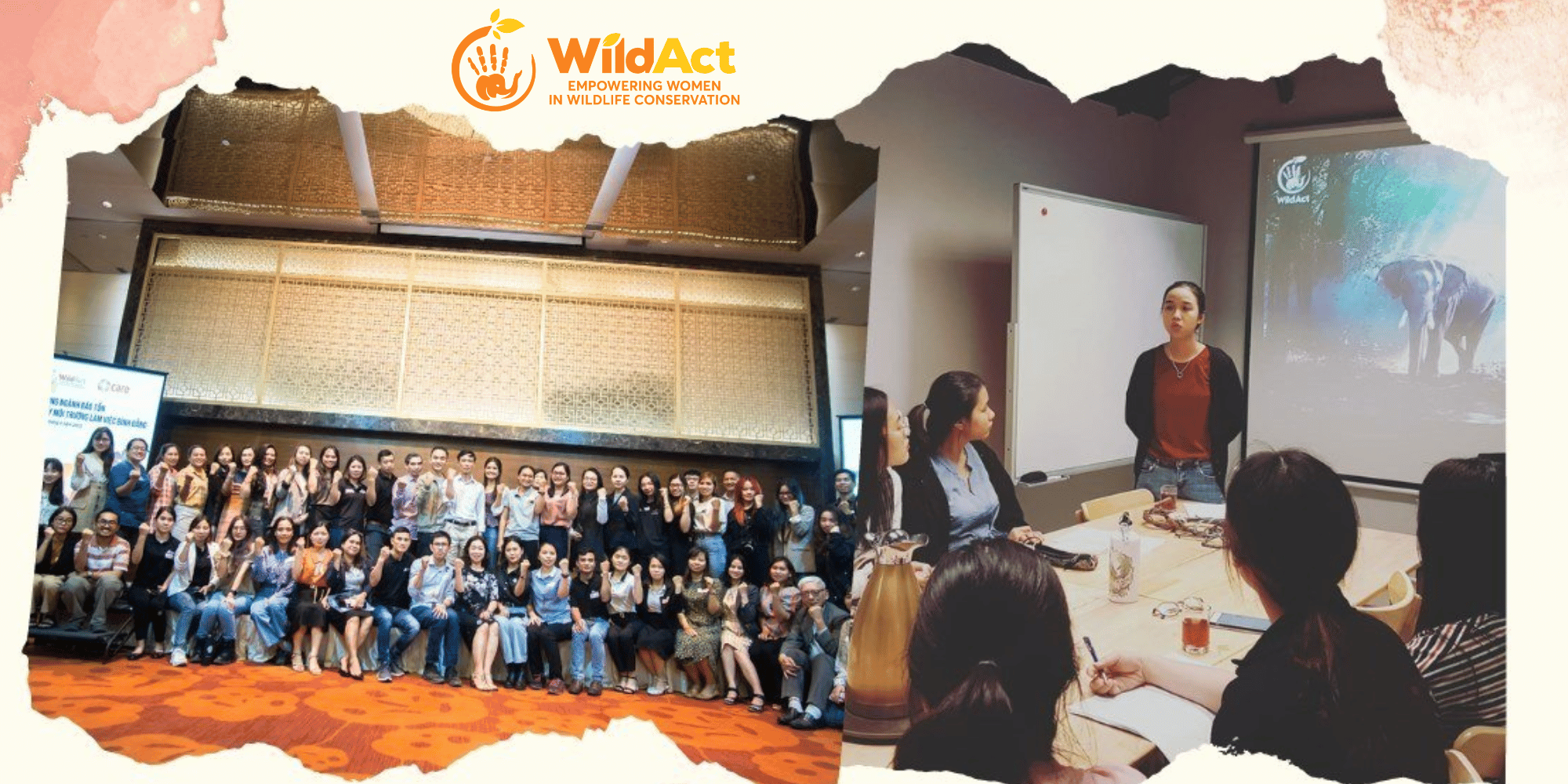 Photo: "Gender-based Violence in the Wildlife Conservation Sector" workshop supported by USAID RISE grant challenge funding with partnership support of the IUCN, and designed, implemented and managed by Resonance.
This past summer, WildAct Vietnam also provided training to 33 rangers at Cat Ba National Park. Training is valuable not only for those who are employed as rangers in creating a healthier climate for women, but also given the roles rangers play in identified potential threats of GBV in the conservation fields and sector more broadly.
Nguyễn's Efforts in Conservation; Women's Empowerment in Conservation Garnering Acclaim
Although Nguyễn is quick to give other staff and colleagues credit for the work and accomplishments of WildAct Vietnam in terms of specific conservation initiatives and in creating a more inclusive and safer environment for women engaged in conservation, her leadership as part of these aims has not gone unnoticed.
Nguyễn has a reputation as a serious scientist and wildlife conservationist and is published in several scientific and academic journals. She also leverages her combined scientific acumen and advocacy as an environmental activist and a writer.
She is known for her conservation works in tackling the illegal wildlife trade in Asia and Africa. In Vietnam, she is well known for her book Tro Ve Noi Hoang Da (Back to the Wilderness) and Chang hoang da - Gau (Chang is Wild about Bears).
For her influence as a changemaker, Nguyễn has been the recipient of several prestigious awards and recognitions in the last few years.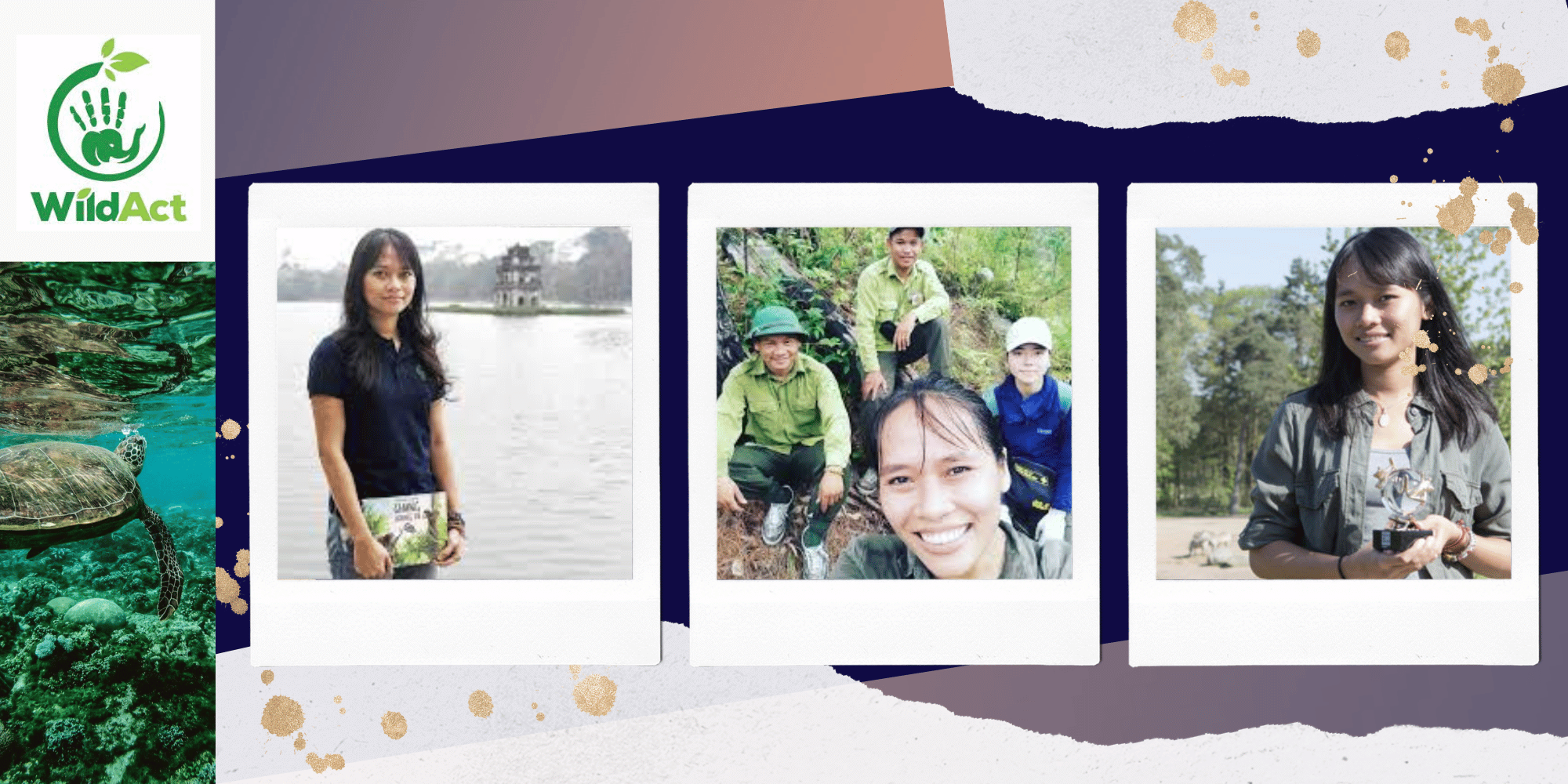 In 2018, at the age of 28, Nguyễn became the first Vietnamese woman to win the Future For Nature Award. The international media attention she received encouraged young people in Vietnam, especially women, to follow wildlife conservation as a career.
That same year Eco-Warrior from Elle Style Awards. She was also voted as one of 30 under 30 by Forbes Vietnam and nominated for the Women of the Future – Southeast Asian region 2018 for her contribution in global wildlife conservation. She was also included in the list of global most influential women by the BBC in 2019 and 30 Under 30 Forbes Asia again in 2020.
Most recently, she was the recipient of the 2022 Princess of Girona Foundation International Award for "her courageous and inspiring work in wildlife conservation in her own country and elsewhere in the world."
Adding to her widespread attention as a conservation activist, In 2013, Trang was immortalized as an online game character to help raise awareness on rhino conservation. The game attracted over 3 million players within the first two weeks of game launched.
In 2018, Trang Nguyen participated in the South African documentary film, Stroop: Journey into the Rhino Horn War and the US documentary Breaking Their Silence: Women on the Frontline of the Poaching War.
Without a doubt, Nguyễn is a changemaker who has made significant, tangible contributions to conservation in Vietnam and globally. Through her activism and demonstrated accomplishments, she is showing girls and young women everywhere that they, too, can be leaders in conservation that has real, demonstratable impact.
She is also through her organization, and through support from organizations like USAID through its ICUN Partnership RISE Grant Challenge initiative, helping to address the multiple forms of GBV that conservationists experience in Vietnam, and finding through collaboration tools and approaches that will support women to actively participate in conservation, and facilitate an ideal climate, systems, and policies conducive to that aim.
Learn more about the USAID RISE Grant Challenge Initiative. Resonance is proud to be supporting through design, implementation, and management of this activity. It gives us the amazing opportunity to support changemakers like Trang Nguyễn and their organizations and impact.