The U.S. Agency for International Development (USAID) has partnered with Greenland-based Nalik Ventures A/S to support strategic investments contributing to competitiveness, impact, and sustainability in the growing Greenlandic tourism sector. This partnership was established through USAID - Enterprise Driven Growth Initiative (EDGI), implemented by Resonance, which aims to leverage greater private sector engagement (PSE) and innovative strategies to expand the country's trade connectivity and economic growth.

Nalik Ventures is a crucial partner, given its mandate and successful track record in financing and advising businesses nationwide. Since 1993, the company has supported sectors considered vital to Greenland's future growth and development as the country shifts from a historical dependence on commercial fishing as a primary economic driver to a more diversified economy.
SMEs are Critical to the Growth of Greenland's Sustainable Tourism Sector
Given the growth in visitors to Greenland over the last several years, Greenland's leadership, EDGI, and Nalik view investment in small and medium-sized enterprises (SMEs) support services in the tourism and hospitality sector as paramount to overall economic growth. Thus, this partnership focuses on expanding inclusive business development services (BDS) and investment approaches for new and existing SMEs with potential in this sector.
The partnership between Nalik Ventures' and the EDGI activity is critical in this context, given the needs of Greenlandic SMEs to prioritize growth while balancing sustainable impact.
"We work to ensure that our investments in promising new and expanding businesses are not only financial in support, but we also provide new and growing companies with technical expertise and counseling through all phases of business growth and development to safeguard their success."

- Allan Chemnitz, Manager of Nalik Ventures
According to Chemnitz, this multi-faceted approach will be important in cultivating new business creation and growth in the hospitality and tourism sector in Greenland, which is generally considered high-risk and dependent on an array of factors like weather, transportation costs, and health of the global economy, among others for long-term sustainability.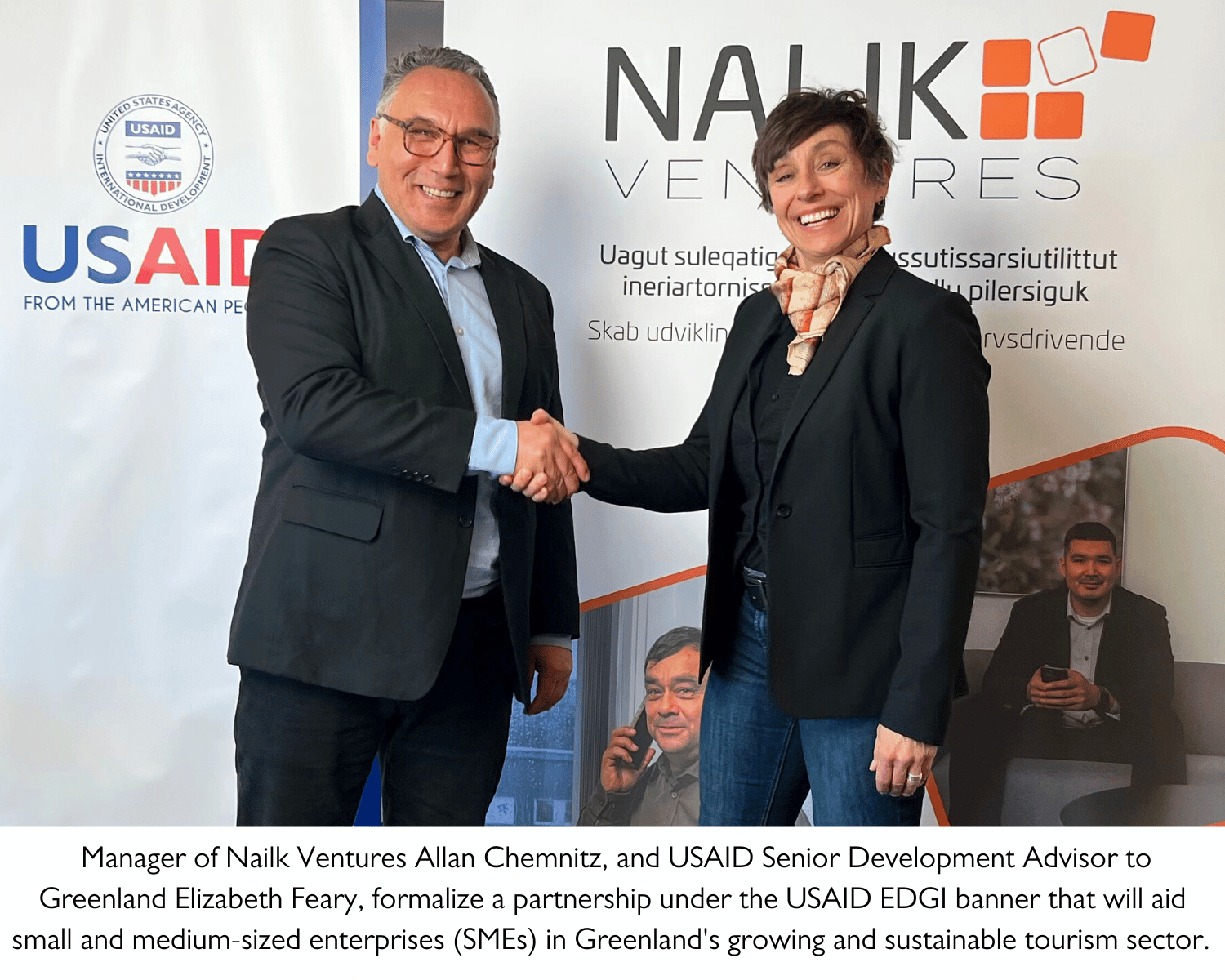 EDGI and Nalik Ventures understand that the unique landscape and geographical constraints challenge Greenlandic businesses. Both partners aim to complement the Government of Greenland's efforts to mitigate these challenges while harnessing the country's potential for inclusive economic growth at the national and municipal levels.
Unique Challenges and Opportunities for SMEs Including Disadvantaged Businesses
Research and collaboration since late 2022 have helped EDGI's partners understand in greater depth the challenges SMEs face, including infrastructure barriers, supply chain constraints, and even isolation from critical business support services.
"In response, EDGI has prioritized the expansion and coordination of BDS to not only new and existing businesses with demonstrated potential in the sector, but also to some of the most disadvantaged businesses in Greenland," says Anne Szender McCarthy, Resonance Director, Economic Growth and Chief of Party for EDGI.
As part of these efforts, the EDGI-Nalik Ventures partnership is designing an impact investment strategy and preparing to launch an inclusive business incubator to pilot more comprehensive support of SMEs in the tourism and hospitality sector across their business lifecycle.

We look forward to reporting on the progress of EDGI and Nalik Ventures, and the impact of this innovative partnership and activities, in future editions of Resonance Insights.