The world is faced with the challenge of feeding a population that is projected to reach nine billion people by 2050. Today, seafood is a critical food source for nearly three billion people. It offers many advantages over other animal-based food sources. It uses less resources and space than land-based meat production including chicken, pork, and beef. It also sustains livelihoods in coastal communities around the world.
I've seen firsthand the importance of sustainable seafood and the role it plays in food security and jobs. While living in Southeast Asia for six years, most recently as the Senior Partnership Advisor on the USAID Oceans and Fisheries Partnership, I had the opportunity to work with a number of leading seafood processors, local non-governmental organizations (NGOs), governments, and farmer groups who were helping to improve the sustainability of the sector.
At the same time, I've witnessed the major challenges these partners face with traditional wild fisheries, which are heavily overfished. Illegal and destructive fishing practices are causing fisheries to collapse. If we are to feed the planet's ever-growing population, we must identify and support sustainable fishing practices that can also provide substantially greater quantities of seafood than ever before.
Introducing the Partnership Assurance Model for Sustainable Seafood
The Pros (and Cons) of Aquaculture
Aquaculture offers a promising solution. The amount of farmed seafood has grown exponentially to meet the growing demand for seafood overall: it represents 53% of all fish consumed, and 9% of the world's animal protein consumption. Aquaculture will continue to be one of the fastest growing food sectors and is projected to supply over 60 percent of fish destined for human consumption by 2030. At the same time, its rapid growth has negatively impacted key coastal habitats and affected marine biodiversity.
Over the past decades NGOs, businesses, and other stakeholders have developed assurance and improvement models, including sustainability standards, certification schemes, and ratings programs, to improve sustainability of production and provide assurance to customers and buyers on the sustainability of farmed seafood. However, third-party aquaculture certification schemes make up only 6% of the global aquaculture supply and are primarily concentrated in a limited number of species and countries.
The sector continues to face multiple sustainability challenges including disease outbreaks, water pollution, use of harmful antibiotics, and reliance on feed from wild fisheries. Seafood consumers in North America, Europe, and Asia are growing increasingly concerned about the environmental impact of seafood production. As a result, over 90% of US retailers and 75% of EU retailers have made commitments to buy and sell sustainable seafood. But current assurance models that buyers can use to meet this demand remain limited, with barriers including local resistance, high costs, and a focus on the sustainability of individual farms. These models struggle to represent the diversity of stakeholders in the development and implementation of standards and assurance systems, which limits their use and acceptance.
Lessons from the Land
Some aquaculture stakeholders are looking beyond their sector, to emerging landscape and area assurance models. A number of leading NGOs, companies, and governments in the agriculture and forestry product sectors are implementing collaboratively to scale the adoption of sustainable production practices. Although aquaculture production has unique characteristics, these initiatives face similar issues in the development of assurance models: how to engage and incentivize farmers, involve buyers and governments, develop credible and efficient verification systems, and apply farm-level standards to a wider area. By collaborating across sectors to develop, test, and apply new assurance models, partners are better able to adjust to local contexts and effectively involve a wide range of stakeholders. These innovators are moving beyond the farm-by-farm approach, while also meeting buyer and customer assurance requirements.
A Fresh Approach to Partnership
Like most of today's global development challenges, addressing the sustainability of the aquaculture sector demands a fresh approach that engages governments, donors, civil society, and the private sector as partners.
Informed by our work across multiple sectors, Resonance is collaborating with the Monterey Bay Aquarium, SGS, Seagreen Research, Tucker Consulting Services, IDH, the Sustainable Trade Initiative, The Asian Seafood Improvement Collaborative (ASIC), and Thai Union North America to develop and test a new assurance model that we believe can provide a scalable and inclusive model for sustainable aquaculture improvement. The Partnership Assurance Model brings together governments, farmers in a specific area, and buyers to co-design, implement, and verify improvements in aquaculture production.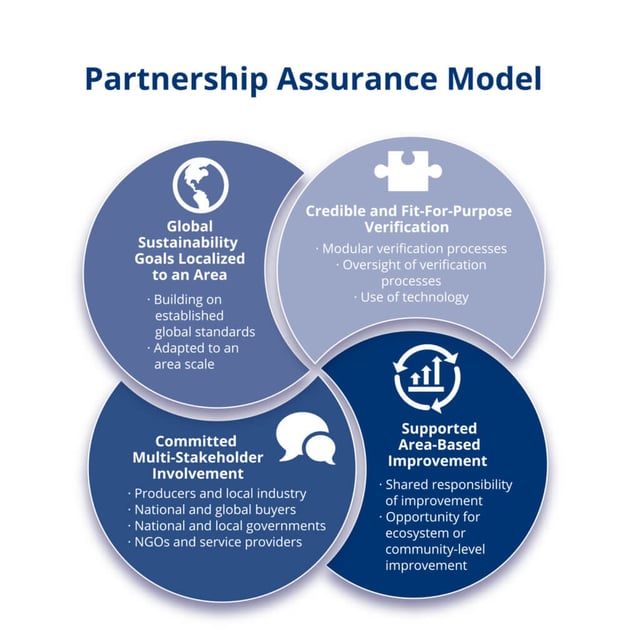 Key Elements Of The Partnership Assurance Model
Committed multi-stakeholder involvement.
Multi-stakeholder engagement processes are not unique, but the Partnership Assurance Model is: it provides a system for local stakeholders to define their goals and set standards and guidance to reach those goals with the support of global buyers, technology companies, NGOs, and other local, implementing partners.

Global sustainability standards, applied locally.
The Partnership Assurance Model builds on established global sustainability standards adapted to local contexts. It moves beyond an individual farm site to a broader production area to ensure a more holistic look at ecosystems—and the governance and socioeconomic structures within them—while also considering the goals that are important to stakeholders outside the region, including buyers.
Credible and fit-for-purpose verification.
The Model incorporates a tailored verification approach for the production area to provide efficient, cost-effective, and legitimate assurance that is commensurate with the scope, risks inherent in the sector, and buyer requirements.

Supported area-based improvement.
All involved parties contribute work and/or financial support to achieve project goals. Communication is facilitated between supply chain participants and support is provided for improvement and verification in a way that shares input, values, and costs between parties.
The Future of Sustainable Seafood
As demand for seafood grows, assurance models must evolve to reflect the variation in the aquaculture sector, while continuing to provide livelihoods for millions. A one-size-fits-all approach will not work. Many of the current assurance models are better suited to large-scale, consolidated industries like salmon production in Chile and Norway, rather than small-scale farmers who make up the bulk of global production like shrimp farming in Southeast Asia.
We're proud to be working with ASIC, Seafood Watch, Thai Union, and other partners to develop and test the new Partnership Assurance Model in shrimp aquaculture in Southeast Asia. Our collective work reflects the input of representatives throughout the seafood supply chain, as well as stakeholders in the sustainable seafood community. We invite you to learn more about the Model in the white paper, and welcome further discussion around the opportunities for implementing and evolving this model.