Marking World Oceans Month, the USAID Oceans and Fisheries Partnership (USAID Oceans) launched a partnership with Futuristic Aviation and Maritime Enterprise, Inc. (FAME) to equip small-scale fishing vessels with transmitters to track catch data and promote sustainable fisheries in southern Mindanao, Philippines.
USAID Oceans is a partnership between USAID and the Southeast Asian Fisheries Development Center. USAID Oceans works to strengthen regional cooperation to combat illegal, unreported and unregulated fishing, promote sustainable fisheries, and conserve marine biodiversity in the Asia-Pacific region. The backbone of the program is the development and implementation of a catch documentation and traceability system, piloted in learning sites in Indonesia and the Philippines and adapted for regional expansion. USAID Oceans is committed to developing a proof of concept for low-cost, sustainable catch documentation and traceability systems that are inclusive of the complete fisheries supply chain—both large and small scale.
In order for catch documentation and traceability system to be effective in tracing seafood through the supply chain, it must be anchored in market realities. Additionally, it must be cost-effective and able to help industry meet changing regulatory requirements throughout the supply chain. As an integral member of the USAID Oceans team, Resonance is executing a partnership and industry engagement strategy to ensure the successful design, testing and scaling of the catch documentation and traceability system. This strategy includes developing market-driven partnerships with seafood buyers and processors to invest in digital traceability and motivate suppliers to adopt and scale the system across multiple countries and fisheries in Asia Pacific. We are also developing strategic partnerships with technology providers, like FAME, to harness communication technologies and traceability innovations to facilitate the tracking of the seafood product from the fishing boat to the consumer's plate.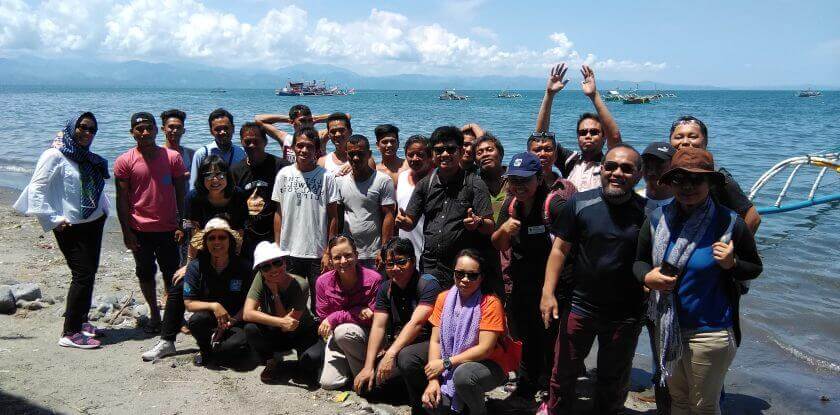 USAID Oceans and small-scale fisher partners gather in a fishing community outside of General Santos City, Philippines to celebrate the launch of FAME technology, bringing previously unconnected fisheries online. Credit: USAID Oceans