I fell in love with books in adolescence not out of choice, but necessity. As a child in the early 80s, I was expected to play team sports—in my case I chose baseball and soccer. However, I was no athlete. Asthma and poor hand-eye coordination, as well as a rather lackadaisical attitude towards practice and conditioning, meant I was far from a star performer. When I wasn't warming benches, I could be found slouching in the outfield, kicking dandelions and daydreaming as fly balls sailed over my head. By the time high school rolled around, it was clear that I had gone as far as my very meager talents and nonchalant attitude could take me on the athletic field. I strongly suspect my coaches and teammates did not lose much sleep when I decided that team sports were not my thing.
As I moved from the sideline bench to the family room couch, books became a central part of my life. This was the late 80s and military techno-thrillers were all the rage. I devoured all the early Tom Clancy books as well as spy novels from Len Deighton, John Le Carre, and Robert Ludlum. I also discovered non-fiction, especially history, geography, economics, and politics. As a college student, I encountered Russia's rich literary tradition and ended up with a concentration in Russian literature. Later, as I traveled to the ends of the earth for work, I spent countless hours on flights to Asia, Russia, and Africa crammed in cattle class at the back of the plane, huddled with my books to pass the time.
Out of this love of books sprang the dream that someday I might write one. I had no idea what I would write—fiction or non-fiction. I had no high-minded aspirations of being a literary writer, I just knew that I wanted to try to write something that someone, somewhere might want to read. Writing a book, however, was one life goal among many. It was also a dream that was unlikely to pay the proverbial rent, so my writing ambitions got pushed to the side as I got married, raised children, built a career, and launched a company.
In pursuit of paying that proverbial rent, my professional career took a number of turns: from activist to foundation executive, consultant to entrepreneur. I have worked on six continents and in more than 40 countries, on issues such as climate change, food security, women's empowerment, responsible sourcing, financial inclusion, and more. Through this diverse set of experiences, I learned that there are problems that no one organization—company, government agency, or non-profit—can solve on their own. Rather, we must collaborate across sectors if we are to have a lasting impact.
I also learned that collaborating effectively across sectors is extremely challenging. Companies, governments, and non-profits have different structures, cultures, incentives, and capabilities, all of which conspire to make it hard to work across sector boundaries, even when organizations share common goals. That insight—that cross sector collaboration is essential for solving big problems and that these partnerships are very difficult to do well—led to the genesis of Resonance, the consulting firm I founded. Over the last 15 years, we've supported Fortune 500 companies, leading NGOs, and government agencies to build more than 350 cross-sector partnerships in every corner of the globe. Today, Resonance consists of over 100 amazing professionals supporting clients on issues ranging from sustainable agriculture to human trafficking to innovative finance.
Having seen the power of cross-sector partnerships to solve big problems, I returned to my earlier life dream and decided to write a book about them. It gives me great satisfaction to share that my first book, Partner with Purpose: Solving 21st century business problems through cross-sector collaboration, will be published by Rivertowns Books on June 2. Partner with Purpose distills what Resonance and leading professionals have learned about partnerships. It is a hands-on, practical guide for business professionals looking to create business, social, and environmental value through cross-sector collaboration. The book shares stories and insights from business and sustainability professionals at companies such as PepsiCo, Microsoft, and Medtronic. It also contains tools, techniques, and methods forged from Resonance's experience around the world.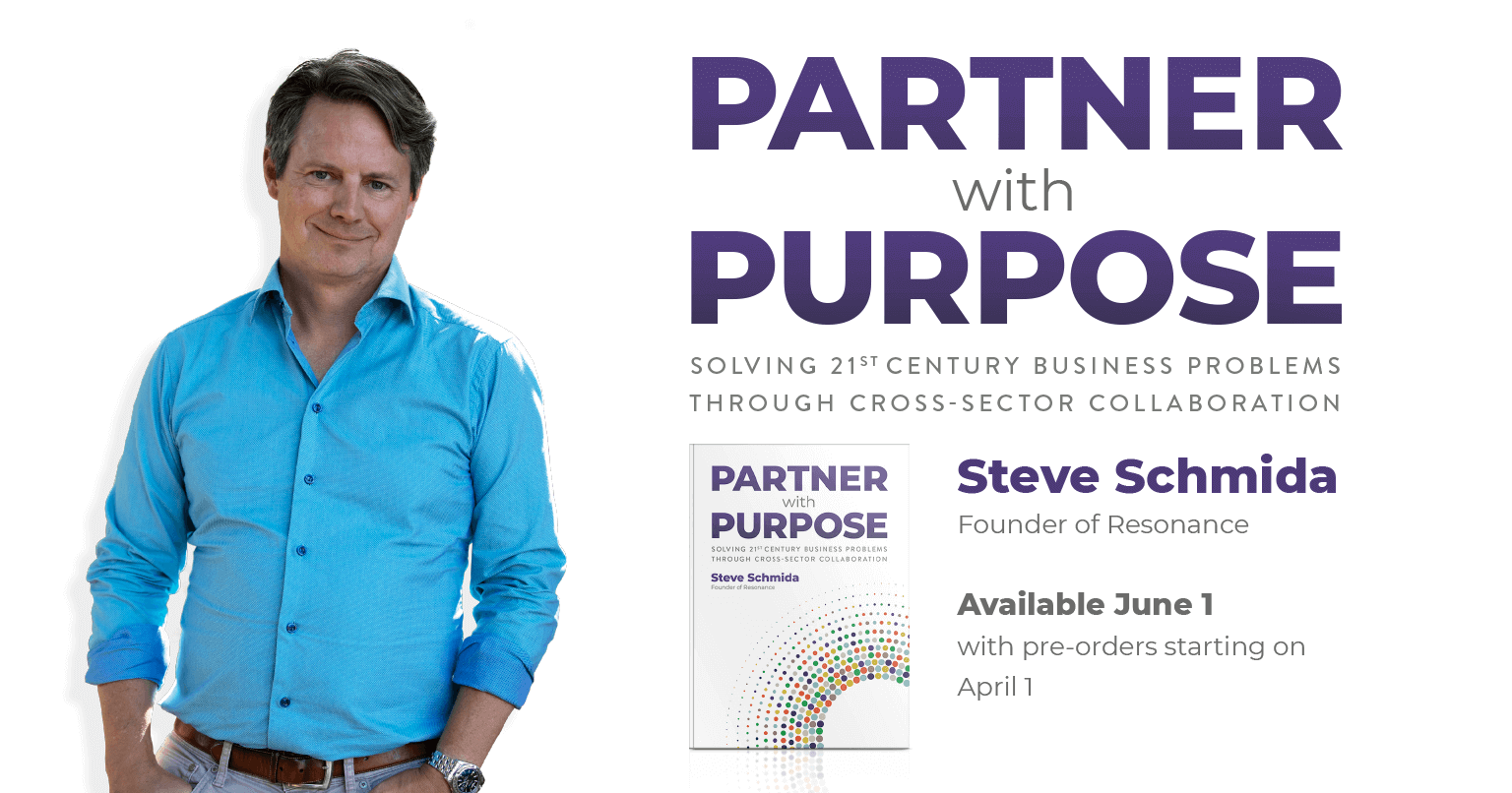 Publishing a book under the best of circumstances is challenging; publishing a book in the midst of the COVID-19 pandemic—possibly the greatest public health and economic crisis of the last century—is more challenging still. Yet, the book is more relevant than ever. The tools, methods, and techniques are essential for companies, NGOs, and government agencies that must work together if we are to defeat the pandemic. My hope is that Partner with Purpose is not just the fulfillment of my lifelong dream of becoming a published author; it is that the book will make a contribution, however small, to those who are on the frontlines of making the world a better place for all.