20th century business was best characterized as the century of optimization. Companies focused their efforts on becoming more efficient and effective as a means to increase profitability and growth. 20th century business professionals used tools such as Six Sigma and Lean Manufacturing to drive optimization.
Business in the 21st century looks radically different. By 2030, there will be eight billion people on the planet and the effects of climate change will be felt around the world. Feeding those eight billion people and ensuring they have prosperous, fulfilling lives without destroying the environment will be an enormous challenge, not just for society, but for business as well. As such, business professionals in the 21st century need to focus on sustainability—ensuring that their businesses minimize negative impacts and maximize positive outcomes for the environment, employees, customers, and communities.
One major challenge is that many of the problems facing businesses in the 21st century are not ones a company can solve on its own—no matter how large the company and how vast its resources. Issues such as climate change, ocean plastics, human trafficking in corporate supply chains are not merely complex, they are truly wicked problems that no one organization can solve on their own. As a sustainability executive at a leading food and beverage company, notes, "You can't do it on your own. Even if you could just write a check, you couldn't write one big enough to fix these systemic issues by yourself."
To tackle these wicked 21st century business problems, businesses—large and small—need to collaborate with NGOs, foundations, governments, and communities. By partnering with outside organizations, companies can leverage their expertise, networks, legitimacy and funding to advance sustainability goals. Again, the sustainability executive: "We view partnerships as—for lack of a better term—a tool for achieving our objectives and addressing some of our risks. We are trying to create a resilient, reliable agriculture supply chain. We also recognize that we have a role to play in the issues of the day: climate change, water, biodiversity."
The challenge is that building and managing successful cross-sector partnerships is really hard. In fact, a recent Hilton Foundation study found that fully 75% of cross-sector partnerships fail to meet partner expectations. Clearly, if cross-sector collaboration is going to fulfill its potential in solving the challenges of the 21st century, organizations need to do better job of it. While scholars such as Michael Porter and Howard Buffett have brilliantly articulated why working across sectors is so important, there is a lack of practical information, tools, and insights on how to build and manage cross-sector collaboration.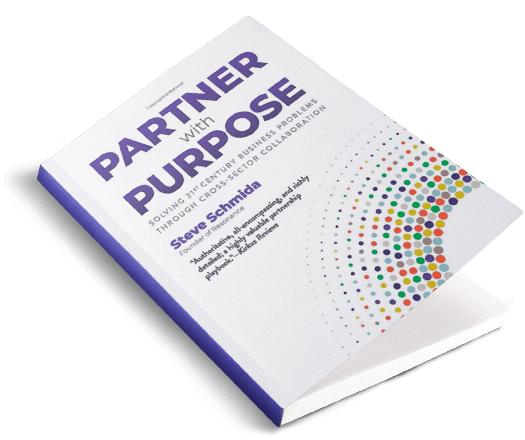 I wrote Partner with Purpose to help address this gap in our knowledge and understanding by providing some practical, brass-tacks advice and guidance on how to build and manage partnerships that deliver results. I want to make cross-sector collaboration more effective, more impactful and, perhaps, even a bit fun. The goal of the book is to equip business professionals with the knowledge, tools, and skills they need to find the right partners and develop partnerships that deliver lasting value—for business, society, and the environment. The book builds off the insights and knowledge Resonance has developed over the course of facilitating more than 350 cross-sector partnerships around the world.
If you are a business professional working on tough 21st century business problems, Partner with Purpose is for you. The book explores cross-sector collaboration from soup to nuts through the stories and insights of those on the frontlines of 21st business challenges—sustainable agriculture, responsible sourcing, circular economy, inclusive business—with professionals from leading Fortune 500 companies such as Microsoft, PepsiCo, and Medtronic as well as dynamic emerging market companies such as Thai Union and miLife (Ghana).
Partner with Purpose became available on all platforms on June 1.
This article is the beginning of a series on cross-sector collaboration that builds upon and expands on the themes in the book. Over the coming weeks, we will explore a number of aspects of building effective partnerships. In addition, we will hear from business professionals on the frontlines of business sustainability, philanthropy and global development on what it takes to make partnerships work. My hope is to foster a rich discussion, share experiences, best practices and insights on how to make cross-sector collaboration work for everyone.